Perfect Jordan Hansen Wins Cup Series Event in Medicine Hat, Alberta, to Crack Top 10 in the Heated Battle for the 2023 PBR Canada Championship
By: Kacie Albert Saturday, October 14, 2023 @ 11:50 PM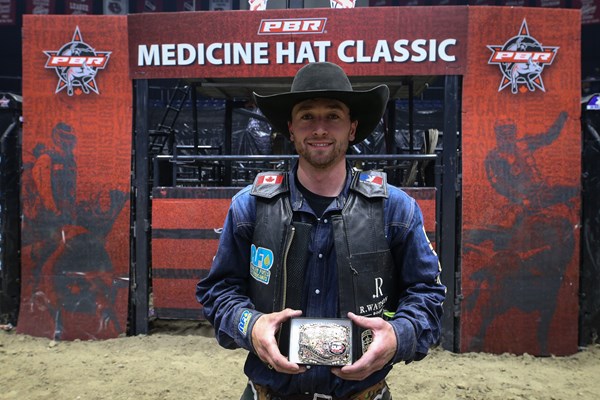 MEDICINE HAT, Alta. – At the penultimate PBR (Professional Bull Riders) Canada Cup Series, presented by Wrangler, event of the season in Medicine Hat, Alberta, Jordan Hansen (Amisk, Alberta) went a perfect 2-for-2 to win the PBR Medicine Hat Classic, presented by Art's Excavating, and crack the Top 10 in the heated national championship race.
Hansen got off to a hot start, tying for the Round 1 win when he covered Irish Rebel (Wilson Rodeo) for 84 points.
With an early pick in the championship round bull draft, Hansen elected to go head-to-head with Bull of the Year contender Langham Kid (Two Bit Bucking Bulls). A decision which proved dividends, Hansen remained in perfect time with the powerful animal athlete, matching him jump-for-jump en route to the whistle.
Marked an event-best 89.5 points, the 8-second effort cemented the tour stop win for Hansen.
The golden finish garnered Hansen a much needed 129 national points in the race to be crowned the 2023 PBR Canada Champion and earn the accompanying $100,000 bonus.
While he began the event ranked No. 13, the Albertan catapulted six positions climbing to No. 7 in Canada. He is now within 236 points of No. 1 Dakota Buttar (Eatonia, Saskatchewan).
Atop the standings, the Top 5 went unchanged. While No. 1 Buttar and No. 3 Nick Tetz (Calgary, Alberta) did not compete due to injury, No. 2 Cody Coverchuk (Meadow Lake, Saskatchewan), No. 4 Coy Robbins (Camrose, Alberta) and No. 5 Aaron Roy (Yellow Grass, Saskatchewan) were all shutout, failing to log a score and earn national points.
Returning to the top of the event leaderboard, Jake Gardner (Fort St. John, British Columbia) and Cody Fraser (Wilmington, South Australia, Australia) tied for second.
For Gardner, after tying for the Round 1 win via an 84-point ride aboard Whiskey Moon (Skori Bucking Bulls), he punctuated his outing inside Co-op Place with an 84.5-point ride atop Cadillac (X6 Ranch Bucking Cattle/Legend Rodeo Stock).
The perfect performance netted Garnder a much-needed 80 national points. On the bubble of qualifying for the 2023 PBR Canada National Finals in Edmonton, Alberta, Nov. 17-18 prior to the event, Garnder's silver showing firmly positioned him inside the nation's Top 17. Ranked No. 17 prior to the PBR Medicine Hat Classic, presented by Art's Excavating, Gardner climbed to No. 14.
Surging Aussie Fraser also went 2-for-2 in Medicine Hat to collect 77 national points. He first rode Blurred Lines (X6 Ranch Bucking Cattle/Legend Rodeo Stock) for 80 points in Round 1, and then went on to deliver the second-best score of the event when he topped The Remedy (X6 Ranch Bucking Cattle/B2 Braithwaite Ranches) for 88.5 points in the championship round.
Fraser, who began the event outside of the Top 17 ranked No. 20, rose four spots to No. 16 in the national standings.
Fourth was Conner Halverson (Gordon, Nebraska).
After bucking off Pot Licker (X6 Ranch Bucking Cattle/S&E Bucking Bulls) in 5.03 seconds in Round 1, Halverson rebounded in resilient form in the championship round, topping Son Of A Sinner (Eno Bucking Bulls/Gaume Farms) for 85.5 points.
Collecting 38 national points, Halverson rose from No. 26 to No. 21 in the standings as he attempts to qualify for his first PBR Canada National Finals.
Rounding out the Top 5 in fifth was Jake Dunham (Tucson, Arizona).
Dunham's 84-point ride atop Scootin Hell (Midnight Bucking Bulls) in Round 1 earned him 28 national points.
In the bull pen, Langham Kid was unrivaled, crowned the YETI "Built for the Wild" Bull of the Event. The powerful animal athlete posted a tour-stop best 44-point score in the championship round during his trip with Hansen.
The 2023 PBR Canada Sup Series, presented by Wrangler, will next travel to Saskatoon, Saskatchewan, and SaskTel Centre for the PBR Saskatoon Classic, presented by Redhead Equipment and Case IH. Marking the final Cup Series event of the regular season, competition will begin on Saturday, October 28 at 7:00 p.m. and Sunday, October 29 at 2:00 p.m. MT.  
Stay tuned in to PBRCanada.com and follow the tour on Facebook (PBR Canada), Twitter (@PBRCanada), and Instagram (@PBRCanada) for the latest results, news, stats and more.
PBR Canada Cup Series, presented by Wrangler
PBR Medicine Hat Classic, presented by Art's Excavating
Co-op Place – Medicine Hat, Alberta
(Round 1-Round 2-Event Aggregate-Event Points)
1. Jordan Hansen, 84-89.5-173.50-129 Points.
2. Jake Gardner, 84-84.5-168.50-80 Points.
(tie). Cody Fraser, 80-88.5-168.50-77 Points.
4. Conner Halverson, 0-85.5-85.50-38 Points.
5. Jake Dunham, 84-0-84.00-38 Points.
6. Tyler Craig, 79.5-0-79.50-26 Points.
Cody Coverchuk, 0-0-0.00
Coy Robbins, 0-0-0.00
Aaron Roy, 0-0-0.00
Wyatt Gleeson, 0-0-0.00
Chad Hartman, 0-0-0.00
Garrett Green, 0-0-0.00
Jared Parsonage, 0-0-0.00
Stefan Tonita, 0-0-0.00
Weston Davidson, 0-0-0.00
Callum Miller, 0-0-0.00
Cauy Schmidt, 0-0-0.00
Jake Maher, 0-0-0.00
Micheal Ostashek, 0-0-0.00
Kade McDonald, 0-0-0.00
Eric O'Flynn, 0-0-0.00
Clay Gordon, 0-0-0.00
2023 PBR Canada National Standings
(Place, Rider, Events, Wins, Top 5's, Points, Total Winnings)
1. Dakota Buttar, 27, 4, 11, 614.50, $50,531.52
2. Cody Coverchuk, 40, 3, 16, 603.66, $45,407.54
3. Nick Tetz, 24, 4, 16, 592.50, $50,807.19
4. Coy Robbins, 21, 5, 11, 550.66, $43,440.69
5. Aaron Roy, 38, 6, 13, 459.50, $38,758.33
6. Wyatt Gleeson, 27, 2, 9, 441.33, $33,505.31
7. Jordan Hansen, 5, 2, 3, 378.50, $24,658.33
8. Chad Hartman, 40, 1, 8, 356.83, $22,197.69
9. Tyler Craig, 27, 1, 10, 338.00, $18,580.38
10. Garrett Green, 13, 2, 5, 328.00, $23,761.17
11. Jared Parsonage, 8, 2, 3, 311.00, $20,095.83
12. Ashton Sahli, 25, 1, 8, 308.50, $23,608.68
13. Stefan Tonita, 34, 2, 7, 285.50, $18,635.55
14. Jake Gardner, 17, 0, 4, 245.00, $15,632.21
15. Blake Smith, 21, 1, 7, 225.50, $20,769.83
16. Cody Fraser, 25, 1, 6, 207.50, $13,474.58
17. Brock Radford, 22, 0, 4, 180.50, $10,621.75
18. Weston Davidson, 40, 0, 5, 172.50, $13,269.39
19. Griffin Smeltzer, 11, 2, 5, 150.00, $14,586.75
20. Callum Miller, 26, 0, 3, 132.00, $10,351.63
21. Conner Halverson, 7, 0, 3, 129.50, $9,722.79
22. Cauy Schmidt, 26, 0, 3, 126.33, $7,782.81
23. Daylon Swearingen, 5, 1, 1, 125.00, $8,562.50
24. Cole Brewer, 13, 1, 4, 123.00, $14,785.75
25. William Barrows, 10, 0, 2, 118.50, $6,388.75
26. Jake Dunham, 20, 1, 4, 116.00, $10,167.58
27. Fabian Dueck, 18, 0, 2, 111.00, $7,887.50
28. Boudreaux Campbell, 4, 0, 3, 68.00, $4,675.00
29. Gage Gay, 4, 0, 1, 42.00, $3,098.25
30. Kobe Whitford, 4, 0, 1, 40.50, $1,615.00
31. Cole Wagner, 5, 1, 1, 36.50, $3,479.69
32. Wade Marshall, 11, 0, 1, 29.00, $875.00
33. Jake Maher, 25, 0, 1, 28.00, $2,337.50
34. Micheal Ostashek, 20, 0, 2, 23.50, $2,916.03
35. Tim Lipsett, 9, 0, 0, 22.50, $496.33
36. Kelsey Pavlou, 10, 0, 1, 21.00, $610.94
37. Joe Alejos, 1, 0, 0, 20.66, $446.25
38. Carter Sahli, 7, 0, 1, 17.00, $1,115.63
38. Tanner Skene, 10, 0, 1, 17.00, $1,568.25
40. Zane Hall, 10, 0, 1, 15.00, $1,739.84
41. Cole Young, 7, 0, 0, 14.00, $0.00
42. Jett Lambert, 5, 0, 0, 13.50, $0.00
43. Tyson Thue, 4, 0, 1, 13.00, $918.00
44. Orrin Marshall, 4, 0, 0, 10.00, $178.50
44. Kade McDonald, 7, 0, 0, 10.00, $267.75