Perfect Weston Davidson Wins Ty Pozzobon Legacy PBR in Calgary, Alberta
By: Kacie Albert Friday, October 27, 2023 @ 11:30 PM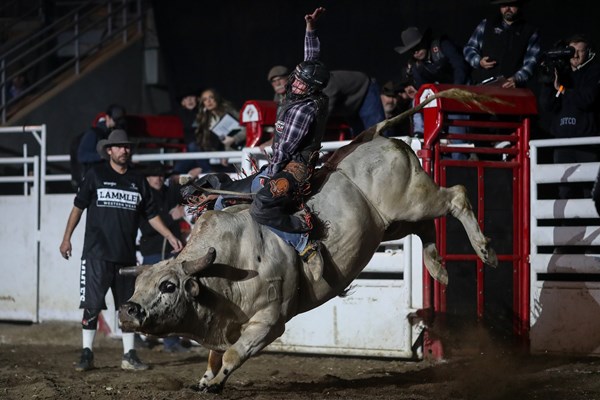 CALGARY, Alta. – Friday night in Calgary, Alberta, 22-year-old Weston Davidson (Strongfield, Saskatchewan) rode supreme, going a perfect 2-for-2 to win the Ty Pozzobon Legacy PBR (Professional Bull Riders), one of the final stops of the 2023 Canadian season.
Davidson got off to a quick start in Round 1, tying for second when he rode Imma Big Deal (Lazy P Rodeo) for 85.5 points.
The Saskatchewan man then clinched the event win, delivering the high-marked ride inside the Nutrien Western Event Center when he teamed with Wild Time (Vold Rodeo) for an 87.5-point score in the championship round.
The perfect performance garnered Davidson a much needed 37 national points. He rose from No. 18 to No. 17 in the nation, now within the threshold to qualify for the 2023 PBR Canada National Finals in Edmonton, Alberta, Nov. 17-18.
Atop the standings in the race for the 2023 PBR Canada Championship and $100,000 bonus, Cody Coverchuk (Meadow Lake, Saskatchewan) finished fifth to surpass Dakota Buttar (Eatonia, Saskatchewan) for the No. 1 rank in the nation.
After riding Billy Big Rigger (Outlaw Buckers Rodeo Corp.) for 85.5 points in Round 1, Coverchuk came up short in the championship round, unseated by Slingin Stones (Lazy P Rodeo) in 4.9 seconds.
Collecting 13 national points, Coverchuk leapfrogged Buttar, now leading the nation by a mere 2.16 points.
Should two-time Championship Coverchuk earn the 2023 title, he would tie Aaron Roy (Yellow Grass, Saskatchewan) for most year-end Championships won by one rider in Canada.
Roy, he is seeking his unprecedented fourth title, was second, netting 29 national points.
The veteran man rode El Patron (Lazy P Rodeo) for 85.5 points in Round 1 before going the distance aboard Emerald Inn (X6 Ranch Bucking Cattle/B2 Braithwaite Ranches) for 85 points in the championship round.
While Roy remained No. 5 in the nation, he closed within 128.16 points of No. 1 Coverchuk.
As the final rider to cover both of his bovine athlete opponents, Cody Faser (Wilmington, South Australia, Australia) was third, earning 18 national points.
Fraser first put points on the board in Round 1 when he topped Young Blood (X6 Ranch Bucking Cattle/Legend Rodeo Stock) for 83.5 points. The young Aussie then punctuated his flawless outing in Calgary with a 75.5-point score on Catfish (Vold Rodeo/Bow River Buckers).
After travelling to the Ty Pozzobon Legacy PBR No. 16 in the nation, Fraser climbed one position, now tied for No. 15.
Rounding out the Top 5 in fourth was Jake Gardner (Fort St. John, British Columbia).
Gardner's Round 1-winning, 87-point ride atop Airplane Mode (Outlaw Buckers Rodeo Corp.) garnered him 16 national points. He maintained his No. 14 rank.
In the bull pen, Blue Magic (Outlaw Buckers Rodeo Corp.) bucked a cut above the rest, crowned the Bull of the Event. He lit up the scoreboard in the championship round, marked 44.5 points when he tossed Brock Radford (De Winton, Alberta) in a swift 1.91 seconds.
The 2023 PBR Canada season continues when the elite Cup Series, presented by Wrangler, next travels to Saskatoon, Saskatchewan, and SaskTel Centre for the PBR Saskatoon Classic, presented by Redhead Equipment and Case IH. Marking the final Cup Series event of the regular season, competition will begin on Saturday, October 28 at 7:00 p.m. and Sunday, October 29 at 2:00 p.m. MT.  
Stay tuned in to PBRCanada.com and follow the tour on Facebook (PBR Canada), Twitter (@PBRCanada), and Instagram (@PBRCanada) for the latest results, news, stats and more.
PBR Canada Touring Pro Division
Ty Pozzobon Legacy PBR
Nutrien Western Event Center – Calgary, Alberta
(Round 1-Round 2-Round 1-Round 2-Event Aggregate-Event Points)
1. Weston Davidson, 85.5-87.5-173.00-37 Points.
2. Aaron Roy, 85.5-85-170.50-29 Points.
3. Cody Fraser, 83.5-75.5-159.00-18 Points.
4. Jake Gardner, 87-0-87.00-16 Points.
5. Cody Coverchuk, 85.5-0-85.50-13 Points.
6. Brock Radford, 84-0-84.00-10.5 Points.
(tie). Jake Maher, 84-0-84.00-10.5 Points.
8. Tyler Craig, 81.5-0-81.50-10 Points.
9. Jake Dunham [2], 78.5-0-78.50-9 Points.
10. Jake Dunham [1], 69-0-69.00-2 Points.
Coy Robbins, 0-0-0.00
Wyatt Gleeson [1], 0-0-0.00
Wyatt Gleeson [2], 0-0-0.00
Chad Hartman, 0-0-0.00
Stefan Tonita, 0-0-0.00
Callum Miller, 0-0-0.00
Conner Halverson, 0-0-0.00
Cauy Schmidt, 0-0-0.00
Gage Gay, 0-0-0.00
Micheal Ostashek, 0-0-0.00
Marcos Gloria, 0-0-0.00
Thor Hoefer II, 0-0-0.00
Elijah Gordon, 0-0-0.00
Brahmer Gaehring, 0-0-0.00
Braxton Rowe, 0-0-0.00