2017 PBR Canada Rookie of the Year Coy Robbins Wins Round 1 of Cup Series Event in Grande Prairie, Alberta
By: Kacie Albert Saturday, September 30, 2023 @ 11:30 PM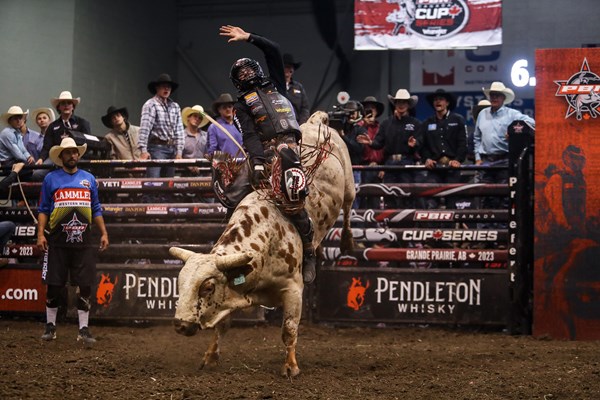 GRANDE PRAIRIE, Alta. – As the seventh PBR (Professional Bull Riders) Canada Cup Series, presented by Wrangler, event of the season got underway Saturday evening in Grande Prairie, Alberta, the race to be crowned the 2023 Canadian Champion, and earn the coveted $100,000 bonus, intensified. Coy Robbins (Camrose, Alberta) wowed the electric crowd inside Bonnetts Energy Centre, surging to an early lead at the PBR Peace Country Invitational, and winning Round 1.
As action got underway for his home province event, Robbins first attempted Jail Break (X6 Ranch Bucking Cattle/Legend Rodeo Stock). In what proved to be a perfect pairing, Robbins remained in perfect time with the powerful animal athlete, reaching the requisite 9 for an unrivaled 87.5 points.
The Round 1 win not only earned Robbins 28 national points, but also punched his ticket to the second 5/5 Bucking Battle of the season.
In the special round, Robbins remained perfect in Grande Prairie, covering Disco Daze (X6 Ranch Bucking Cattle/Legend Rodeo Stock) for 82 points to finish third and earn an additional 15 national points.
The 2017 PBR Canada Rookie of the Year earned a combined 43 national points to solidify his No. 4 rank in Canada. Robbins inched within 105.84 points of No. 1 Nick Tetz (Calgary, Alberta) who is not competing at the PBR Peace Country Invitational due to an overlapping PBR Camping World Team Series event where he is representing the Arizona Ridge Riders.
No. 3 Dakota Buttar (Eatonia, Saskatchewan) also gained considerable ground on the No. 1 rank. Delivering a third-place effort in Round 1 and a runner-up result in the 5/5 Bucking Battle, Buttar garnered 33 national points.
Buttar first covered the previously unridden War Boy (X6 Ranch Bucking Cattle/Legend Rodeo Stock) for 84 points in Round 1, before going the distance atop Desperado (Vold Rodeo) for 85.5 points in the 5/5 Bucking Battle.
The 2020 PBR Canada Champion remained No. 3 in the nation but is now within 103 points of No. 1 Tetz. Should Buttar continue his upwards momentum and be crowned the 2023 PBR Canada Champion, he would become just the fourth multi-time title holder in history, joining three-time Champion Aaron Roy (Yellow Grass, Saskatchewan), and two-time winners Cody Coverchuk (Meadow Lake, Saskatchewan) and Zane Lambert (Ponoka, Alberta).
Coverchuk and Roy also both earned points Saturday evening to further their strongholds inside the Top 5 in Canada.
For Coverchuk, who is seeking his record-tying third national title this November, he made a business decision in the opening round, electing to keep his 60.5-point score aboard Relatively Famous (Thompson Rodeo Livestock), declining a re-ride. As a result, the score which was the eighth-best of the round, earned Coverchuk a crucial 4 national points.
He remained No. 2 in Canada, now a mere 18.84 points back of No. 1 Tetz.
Roy finished second in Round 1 courtesy of an 86-point ride atop Crazy Little Thing (Two Bit Bucking Bulls).  While the veteran was bested in the 5/5 Bucking Battle, tossed in 2.74 seconds by Putsey (X6 Ranch Bucking Cattle), he earned 18 national points for his qualified ride earlier in the evening.
Also maintaining his position in the national standings, No. 5 Roy closed within 170 points of No. 1 Tetz.
Wyatt Gleeson (Sundre, Alberta) also went 2-for-2 Saturday evening in Grande Prairie, to net a collective 38 national points.
After finishing fifth in Round 1 via his 82.5-point ride on Red Coat (X6 Ranch Bucking Cattle/Legend Rodeo Stock), Gleeson won the 5/5 Bucking Battle compliments of a mammoth 89-point ride on Times A Tickin (Thompson Rodeo Livestock).
Gleeson's 2-for-2 effort propelled him from No. 8 to No. 6 in the standings. He is now 231.17 points back of the top spot.
Rounding out the Top 5 on the Round 1 leaderboard was 2022 PBR Canada National Finals event winner Jared Parsonage (Maple Creek, Saskatchewan) in fourth.
Parsonage's 83.5-point ride aboard Smoke Bomb (Vold Rodeo/Brady Walker) earned him 16 national points. The Saskatchewan man remained No. 11 in the standings.
Action for the PBR Peace Country Invitational will conclude with Round 2 and the championship round on Sunday, October 1 Action gets underway at 2 p.m. MDT.
Stay tuned in to PBRCanada.com and follow the tour on Facebook (PBR Canada), Twitter (@PBRCanada), and Instagram (@PBRCanada) for the latest results, news, stats and more.
PBR Canada Cup Series, presented by Wrangler
PBR Peace Country Invitational
Bonnetts Energy Centre – Grande Prairie, Alberta
Event Leaders (Round 1-Round 2-Round 3-Event Aggregate-Event Points)
1. Coy Robbins, 87.5-0-0-87.50-28 Points.
2. Aaron Roy, 86-0-0-86.00-18 Points.
3. Dakota Buttar, 84-0-0-84.00-17 Points.
4. Jared Parsonage, 83.5-0-0-83.50-16 Points.
5. Wyatt Gleeson, 82.5-0-0-82.50-15 Points.
6. Cauy Schmidt, 82-0-0-82.00-14 Points.
7. Brock Radford, 69-0-0-69.00-5 Points.
8. Cody Coverchuk, 60.5-0-0-60.50-4 Points.
Chad Hartman, 0-0-0-0.00
Garrett Green, 0-0-0-0.00
Tyler Craig, 0-0-0-0.00
Stefan Tonita, 0-0-0-0.00
Jordan Hansen, 0-0-0-0.00
Weston Davidson, 0-0-0-0.00
Jake Gardner, 0-0-0-0.00
Callum Miller, 0-0-0-0.00
Cody Fraser, 0-0-0-0.00
Cole Brewer, 0-0-0-0.00
Jake Dunham, 0-0-0-0.00
Jake Maher, 0-0-0-0.00
Cole Young, 0-0-0-0.00
Kade McDonald, 0-0-0-0.00
PBR Canada Cup Series, presented by Wrangler
PBR Peace Country Invitational – 5/5 Bucking Battle
Bonnetts Energy Centre – Grande Prairie, Alberta
Event Leaders (Round 1- Event Aggregate-Event Points)
1. Wyatt Gleeson, 89-89-23
2. Dakota Butar, 85.5-85.5-16
3. Coy Robbins, 82-82-15
Aaron Roy, 0-0.00-0
Jared Parsonage, 0-0.00-0