PBR Canada to Host Outdoor Bull Riding Exhibition at Rogers Place in Edmonton, Alberta, Sept. 27
By: Kacie Albert Tuesday, September 26, 2023 @ 8:51 PM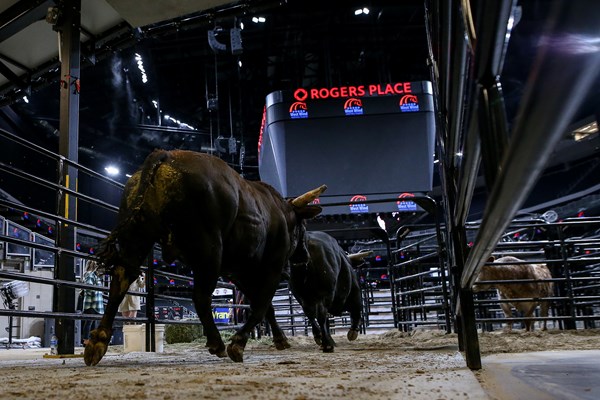 EDMONTON, Alta. – On Wednesday, September 27, the PBR will join forces with the City of Edmonton and OEG Sports & Entertainment (OEGSE) to bring an event like no other to the heart of downtown Edmonton.
That evening, prior to the Oilers preseason game against the Vancouver Canucks, PBR will construct a bull riding arena in ICE District Plaza in front of Rogers Place holding a four-rider bull riding exhibition. The event will be a preview of what fans can expect at the 2023 PBR Canada National Finals in late November, featuring four top-ranked riders and four animal athletes from renowned stock contractor and Alberta's own Nansen Vold.
The competing bull riders include: two-time PBR Canada Champion Cody Coverchuk, who was the first Canadian Champion crowned inside Rogers Place; Jake Gardner; Garrett Green and Cody Fraser.
Those bulls from nine-time PBR Canada Stock Contractor of the Year Vold Rodeo who will buck on the ICE District Plaza are: Teeka, Peacock, Cliff and Red Rust.
The festivities will get underway at 5:00 p.m. MT when PBR holds an interactive pre-show, featuring the internationally regarded entertainer Brinson James, interviews with the participating athletes, and official bull draw for the exhibition that will follow.
At 6:00 p.m. MT, each of the four participating cowboys will attempt their previously chosen bovine athlete. In an interesting twist, the rides will not be judged by PBR officials, but rather Oilers alum Chris Joseph. Joseph's NHL career spanned more than a decade, playing for the Oilers from 1988-1994, part of the Stanley Cup-winning roster in both 1988 and 1990.
In addition to watching the action in-person, for those fans not in the greater Edmonton, Alberta, area, they can watch all the action LIVE on https://www.pbrcanada.com/oilers-expo/ beginning at 5:00 p.m. MT.
Stay tuned in to PBRCanada.com and follow the tour on Facebook (PBR Canada), Twitter (@PBRCanada), and Instagram (@PBRCanada) for the latest results, news, stats and more.