PBR Increases Annual Canadian Champion Bonus to $100,000 Ahead of 2023 National Finals at Rogers Place in Edmonton, Alberta on Nov. 17-18
By: Kacie Albert Wednesday, September 27, 2023 @ 1:00 PM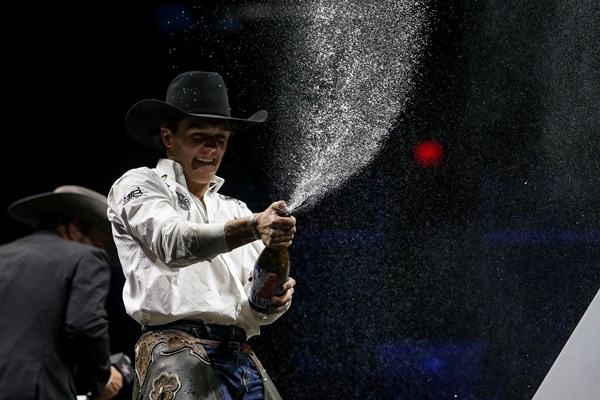 EDMONTON, Alta. – PBR (Professional Bull Riders) Canada today announced that beginning in 2023 at the upcoming Finals, the annual Canadian Champion bonus will be $100,000, the largest bonus ever awarded to the nation's year end Champion.
The now-doubled Champion's bonus increases the total payout of the PBR Canada National Finals to an unprecedented $225,000. This makes the 2023 Canadian National Finals to be held Nov. 17 and 18 the richest in Canadian history. The Canadian year-end event is now also the richest international Finals in PBR's history.
"Since PBR Canada launched nearly 20 years ago, we have been working to develop more lucrative competitive opportunities for our nation's Western sports athletes," said Jason Davidson, General Manager of PBR Canada. "Doubling our annual Champion's bonus makes PBR Canada a sure-to-be competitive hot spot for the world's best bull riders, while also affording our own Canadian athletes the opportunity to annually contend for life-changing money."
The announcement comes as the race to be crowned the 2023 PBR Canada Champion is rapidly intensifying, with multiple riders in pursuit of history.
Reigning PBR Canada Champion Nick Tetz (Calgary, Alberta) currently leads the standings, a slim 22.84 points ahead of two-time PBR Canada Champion Cody Coverchuk (Meadow Lake, Saskatchewan).  Tetz is attempting to become the fourth multi-time Canadian Champion in history, and first to win the honor in consecutive seasons. Coverchuk is seeking his record-tying third Championship.
Also in the hunt is 2020 PBR Canada Champion Dakota Buttar (Eatonia, Saskatchewan), who much like Tetz is on the hunt to become the fourth rider in Canadian history to win the year-end title multiple times. Buttar is presently No. 3 in Canada, 136 points behind No. 1 Tetz.
Three-time PBR Canada Champion Aaron Roy (Yellow Grass, Saskatchewan) will look to accomplish a feat never before achieved in Canada as he contends for his fourth national title this season. Roy is currently ranked No. 5, 188 points back of the top spot.
The bull riding action for 2023 PBR Canada National Finals, presented by Command Tubular Products, begins at 7:00 p.m. MDT on Friday, November 17 and Saturday, November 18 at Rogers Place.
Tickets for the event are on sale now, and start at $40, standard fees may apply. They can be purchased online at Ticketmaster.ca. 
Stay tuned to PBRCanada.com and follow the tour on Facebook (PBR Canada), Twitter (@PBRCanada), and Instagram (@PBRCanada) for the latest event and broadcast schedule, results, news, stats and more.