A Newfound Focus
By: Kacie Albert Monday, November 27, 2017 @ 8:15 PM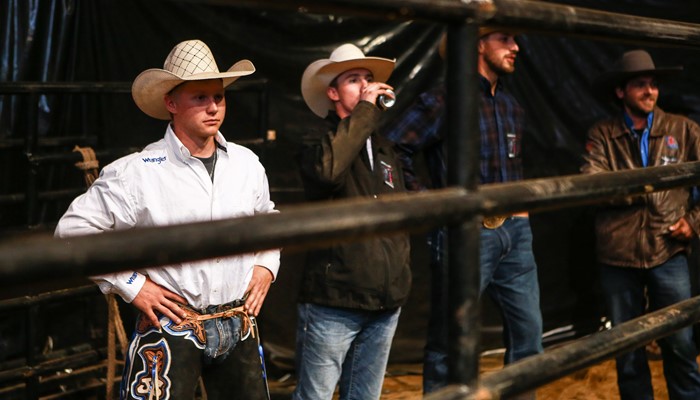 NEW YORK – Riding inside the state-of-the-art Rogers Place with $1,000,000 on the line, was the largest stage, with the highest stakes, on which many of Team Canada's 14-man roster for the inaugural Global Cup had ever competed. 
For several of those riders, including Kamloops, British Columbia's, Jackson Scott, the five-nation, team format event proved to be nothing short of career altering.
RELATED: Team Canada Proud of Bronze Showing at PBR Global Cup
"The Global Cup really definitely changed quite a few of our mindsets," Scott said.  
 "It changed our mindset to let's not wait all winter, let's hop on the trail right now and see if we can get onto the [elite] tour and maybe have a shot at the World Finals this year."
And wait he did not.
Six days after Team Canada finished third at the Global Cup, Scott did just as he said, hitting the competition trail and joining teammates Lonnie West and Logan Biever for one of the first Real Time Pain Relief Velocity Tour (RVT) events of the season in New Town, North Dakota.
While it was West who proved to be the most successful of the trio, taking the event title, without Scott's initiative none may have ever been entered.
RELATED: West Rides to Career First Velocity Tour Win in New Town
"I was talking to the PBR about getting into Biloxi and all the paperwork and stuff that we needed to do to just make sure that we could get into these events and right when I was talking to [them] two spots opened up for New Town," Scott recalled. 
"[They] asked me and I didn't even hesitate to phone Lonnie.  I was like I know he's going to want to go, we're both in the same mindset and we want to go to as many as we can. So I was like heck yeah, put us down, we'll be there for sure." 
After informing West that the duo would be riding at the two-day event, beginning Friday, November 17, Scott's next obstacle was the 10-plus hour, 1,000 kilometer distance between him and his travelling partner who hails from Cadogan, Alberta.
"As soon as I got off the phone with Lonnie I packed my bag and hopped in my car and drove all the way to Lonnie's out there Thursday morning, pretty late in the morning," Scott said of the journey.
"As soon as he got home from work we headed out. We stayed in Regina that night and met up with Logan Biever Friday morning and then headed down to New Town."
While Scott failed to log a qualified ride in New Town, he remains undeterred, focused on earning a consistent spot on the elite tour and a spot at the World Finals.
And he's confident he will be able to actualize those goals, a self-belief he also credits Global Cup for bolstering.
"Riding at the Global Cup and the team and the atmosphere there it felt like it raised my confidence up, riding in front of that crowd, never mind the support we had from all of our teammates and everything," he explained.
"Being there alone made me feel like I'm already even a better rider and it gave me almost that little extra bit of try that I didn't have before and now I feel like it's just going to roll on into this 2018 season."
The boosted confidence and newfound goal set garnered via Global Cup is a sentiment shared by both his regular traveling partners, West and fellow Team Canada rider Coy Robbins.
"Travelling with me, Coy and Lonnie is a really good, young group to be going down the road with," Scott said.
"We are all very hungry to win and we all motivate each other to be better every day."
"We've all got the same mindset as all three of us want to get on the [elite] tour as soon as possible and all three of us can make the World Finals this year."
Next up for the eager rider is the Dec. 9 RVT stop in Biloxi, Mississippi where riders will be vying for 80 world points and $20,000 in added prize money.
Be sure to stay tuned to PBRCanada.com and follow the tour on Facebook (PBR Canada), Twitter (@PBRCanada), and Instagram (@PBRCanada) for the latest results.