Built Ford Tough Series Update - Nashville
By: Kacie Albert Friday, August 18, 2017 @ 10:14 AM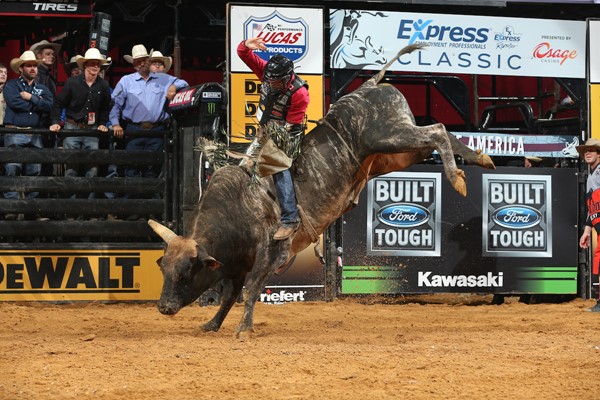 NASHVILLE, Tennessee -  As PBR's elite Built Ford Tough Series (BFTS) storms into Nashville for the final Major event of the year, Saskatchewan riders Tanner Byrne and Dakota Buttar will look to build on their outings last weekend in Tulsa, and be crowned event champion, winning $100,000 and 625 world points.
The Built Ford Tough Music City Knockout, presented by Cooper Tires is the BFTS' second event back from its annual summer break, returning to action last weekend in Tulsa, Oklahoma as the tour began the final 10 event push leading into Las Vegas for the World Finals Nov. 1-5.
In Oklahoma, despite finishing just outside of the points, both Byrne and Buttar logged qualified rides both going 1-for-2, and finishing 22nd and 15th respectively.
RELATED: Byrne and Buttar return to BFTS action.
In Round 1 Prince Albert's Byrne rode Dozier Cattle Co.'s Church Bells for 74.25 points, but after earning a re-ride wasn't able to last the 8 aboard Red Rocket.
Buttar's night read much like the reverse of Byrne's.
The Kindersley rider bucked off Highway 37 in Round 1, but came back renewed in Round 2, riding 01 Cattle Co.'s Flyin' Right for 84 points.
This weekend, however, the stakes are higher, with a total of $250,000 and 2,995 points up for grabs.
As the lone bracket style event of the season, the Top 36 riders will compete head-to-head until one rider is left standing.
Riders have been seeded into one of three brackets based on their current world ranking, with both Byrne and Buttar riding in Bracket C, creating the opportunity for an All-Canadian showdown in Round 4 should they both advance.
In Round 1, Byrne has drawn Big Benny and will square off against Cody Teel who has drawn Stanley FatMax. The winner of that head-to-head will advance to face Rebel Yell II against Rubens Barbosa aboard Tractor Tippin.
Riding out of the other half of the bracket, Buttar has drawn Holy Roller in a matchup against Marco Antonio Eguchi set to face Milky Jones.  Should he advance, Buttar will square off against Matt Triplett, set to face Zacchaeus, with his draw EVH's Hornet's Nest.
RELATED: Click HERE to see the full Nashville bracket.
The rider with the highest score or the longest buck off time in the event both riders fail to make a qualified ride will advance.
The riders eliminated during the first four rounds of competition are given another opportunity to ride and win through the fourth bracket, the second chance bracket. The eliminated riders from the first four round of competition with the Top 8 individual ride scores of buckoff times will comprise this region.
RELATED: Click HERE for a complete breakdown of the event format.
The Built Ford Tough Music City Knockout, presented by Cooper Tires gets underway at Bridgestone Arena tonight at 7:45 p.m. CT and concludes tomorrow with action set to begin at 6:45 p.m. CT.
PBR LIVE will stream the entire event in real time starting at 7:30 p.m. CT on Friday, August 18 and 6:30 p.m. CT on Saturday, August 19. PBR LIVE is available at no charge to all fans. Visit www.pbrlive.com to view. Fans can also watch all the action live via the PBR LIVE app, available for download now on Google Play and iTunes.