Lambert and Roy Chase Further History in Saskatoon
By: Kacie Albert Thursday, November 22, 2018 @ 10:34 PM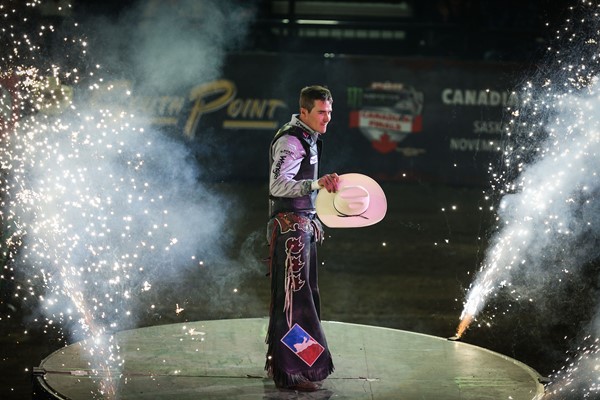 SASKATOON, Saskatchewan – In the sport of bull riding, Zane Lambert and Aaron Roy are two of the most accomplished Canadian athletes to compete in the PBR.
Collectively the duo has made 12 appearances at the PBR World Finals and won five PBR Canada Championships.
Lambert, the reigning Canadian Champion, who also won the title in 2013, is the only rider in PBR history to qualify for all 13 Canadian Finals. The 32-year-old is also the lone athlete to win the nation's season culminating event in multiple season's, let alone in back-to-back years after emerging victorious in both 2016 and 2017.
RELATED: Lambert Makes History with Second National Title
For Roy, he is the lone three-time PBR Canada Champion (2008, 2010 and 2012), and leads all Canadians in the league in earnings, with his current career monies totaling $994,077.95.
With their names already firmly etched in the PBR record books, both athletes are on the precipice of making further history this weekend in Saskatoon at the 2018 PBR Monster Energy Canadian Finals, presented by Mac's/Circle K and Dakota Dunes Casino.
"Just ride all my bulls," Lambert said of his plan for this weekend. "As long as I take care of business and ride to my abilities it should be fine at the end of the day."
Currently No. 7 in the national standings, Lambert trails No. 1 Lachlan Richardson by 983.33 points ahead of Round 1.
RELATED: Game Notes – Saskatoon
The Ponoka, Alberta resident, however, is no stranger coming into the Canadian Finals needing to erase a point deficit.
Last season, when he won the 2017 title, Lambert erased a more than 500-point deficit on the final day of the event to make a come-from-behind surge to join Roy as the only multi-time national champions in PBR history.
This season, should Lambert replicate his stellar performance inside the SaskTel Centre seen the previous two seasons, he could match Roy's standing as a three-time Canadian Champion.
"It would just mean I am staying par with Aaron," Lambert said humbly of the potential career milestone he could achieve this weekend. "Right now he has a title on me, so we better try to get another one."
A possible aid to Lambert in his quest for a third title is the new format set to debut this weekend for the PBR Canada Finals. The 2018 edition of the event will feature a smaller field, just 21 riders, competing in three long rounds, Rounds 1 and 2 on Friday, followed by Round 3 on Saturday, with the Top 12 advancing to the championship round.
With the increased number of bulls each rider is set to face, comes an augmented amount of points, with one rider capable of earning 2,250 points should they win all four rounds and the aggregate.
"That's what's nice with the format, getting on four bulls, it's a riding contest, not a drawing contest," Lambert added of the format. "It makes it better for the good guys to rise to the top and win."
While Lambert would match Roy's record with a third title, should he win the Finals for a third consecutive season, he would cement himself as the most successful riders to ever compete at the Canadian Finals.
"It's just the bulls they bring are the best in Canada, and I think to win this event, it is more difficult to win," Lambert explained. "So to win this event twice and possibly get a third show's you're taking care of business."
And while Lambert has been a regular face at Canadian events the past several seasons, the 2018 slate of events bore witness to the return of veteran rider Roy.
RELATED: Aaron Roy to Return in Lethbridge
In his first season since fracturing his femur during Round 1 of the 2016 PBR World Finals, Roy won three events, including his career first Monster Energy Tour event in Edmonton, in addition to 12 Top-10 efforts.
RELATED: Roy Poised to Set New Canadian Records
His success has led him to enter the Canadian Finals ranked No. 8 in the national standings, just 999.99 points behind No. 1 Richardson, making a record fourth title a feasible possibility.
 "No I never think about that," Roy said of whether the likelihood of achieving that record had crossed his mind. "I am always just one bull at a time. I find if I start thinking ahead it screws up my game. I take it one bull at a time and try to get that one bull rode."
"To win Canada four times means you're beating the best guys in Canada four times," he continued. "With the young guys coming up and guys like Zane it's a hard title to win."
While Roy's last time riding at the Canadian Finals was in 2015, the Yellow Grass, Saskatchewan-based rider has competed in front of the home province crowd five times at the season culminating event.
"It's exciting," Roy said of returning to the SaskTel Centre. "For me it's pretty much a hometown crowd. Every time I come here it's super exciting. It gets you that much more revved up to get on a bull."
In addition to Roy being poised to earn a fourth title, he could also become the first Canadian to eclipse $1 million in career earnings come Saturday in Saskatoon.
"I didn't even know I was that close to crossing the million dollar amount," Roy remarked. "It would be nice, and to be the first Canadian to cross the line would be a feat."
For both Lambert and Roy, the first step in order to reach these goals is making the 8 seconds aboard their Round 1 draws. For Lambert, he will attempt Finning Majic Shivers, while Roy will face All Business.
RELATED: Click here for the complete Friday day sheet.
The 2018 PBR Monster Energy Canadian Finals, presented by Mac's/Circle K and Dakota Dunes Casino begin on Friday, November 23 at 7:30 p.m. CST with Round 1 and Round 2. Tickets are still available and can be purchased at the SaskTel Centre Box Office, online at PBRCanada.com or Ticketmaster.ca, and by phone at 1-800-970-SEAT (7328). Fans purchasing a weekend package with tickets to both shows will receive a 15% discount.
Fans will also be able to watch all the action LIVE on RidePass. The stream will begin on both Friday, November 23 and Saturday, November 24 at 7:30 p.m CT.