Lambert to Rest Following Bronze Effort in Sydney
By: Kacie Albert Wednesday, June 27, 2018 @ 10:57 AM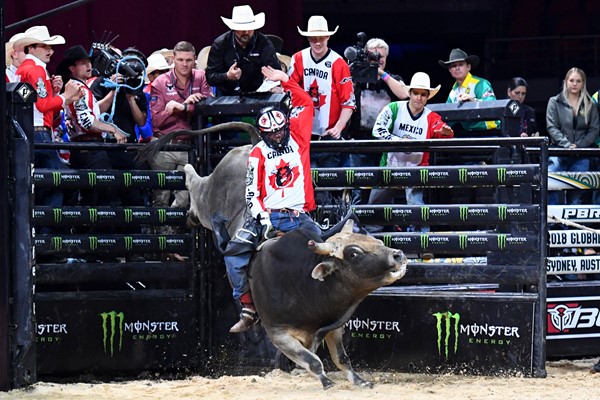 NEW YORK CITY – Among the active riders that traveled to Sydney, Australia for the most recent leg of the inaugural PBR Global Cup, one donning the Maple Leaf had prior World Cup experience in the nation – Zane Lambert.
Part of the 2009 Team Canada that made the trek down under, Lambert was also one of the veteran riders returning to ride for his home nation that competed at the first-ever leg of the Global Cup this past November in Edmonton. 
Looked to by coach Aaron Roy on home soil to attempt four bulls, Lambert went 2-for-4 to help his nation to a third-place effort.
In Sydney, while Team Canada didn't accomplish their ultimate goal of leaving Australia with the nation's dirt encapsulated inside their glittering horn from the Global Cup trophy, they improved their performance from Edmonton.
After covering just 11 of their 32 draws on home soil, a leaner eight-man Team Canada went 13-for-18, racking up 986.8 points, to finish third, just 19.75 points behind event winners Team Australia.
"We all laid it on the line the first day," Lambert stated. "We were all sore going into the dressing room, and we just kind of took that day easy and went at it on Sunday.
"I think we did good. They definitely knew we were there."
RELATED: Team Canada Third at PBR Global Cup in Sydney
Much like Team Canada, the two-time PBR Canada Champion had a similar performance in Australia as he did on home soil. At the two-day, five-nation showdown, Lambert once again covered 50% of his bulls, this time going 1-for-2, making the 8 on Stir Crazy for 82.25 points in Round 1, but unable to cover Top Country Lock n Load in Round 2.
But for those fans that tuned into the LIVE RidePass coverage from the event, it was clear when the veteran rider left the dirt following his last out inside Qudos Bank Arena he was battling injury.
"It was a lingering injury for me," Lambert said of the back injury that initially flared up at the Monster Energy Tour event earlier this season in May in Halifax, Nova Scotia. "Then I rested up until Global Cup and then first ride and I kind of came back a little bit for the second one and wasn't doing real good after."
With the majority of the season in front of him, the 31-year-old has a clear plan.
"I'm taking time off, resting up," Lambert said. I've never really had that before, [that] kind of problem in my back.
"It shouldn't be anything big, but it's not good right now, so that's why I'm sitting out resting."
Despite the injury reemerging, Lambert looks back on the trip with nothing less than pride for what he and his countrymen accomplished.
"It was a really good trip, it was awesome," Lambert reflected. "We had a lot of fun with the boys and happy they counted one of my scores.
"We tried to put up decent scores for everybody and I think we accomplished getting our 12 good scores. We could've made it up a bit more with some big rides, but I thought we went for it pretty good and I'm pretty happy with our outcome.
Echoing a sentiment shared by fellow Team Canada rider Tanner Byrne, Lambert also looks to the trip as a bonding moment for him and all his fellow Canucks.
RELATED: Byrne Rebounds in Sydney Leading Canada to Third Place Finish
"It was a pretty cool bonding trip for all the guys. It was cool to see some young guys get in there, and having fun doing it, and being a part of it and representing Canada. "
Back home now, with a plan to rest, Lambert looks forward to many big moments for him this season on the near horizon, including his fourth appearance at the famed Calgary Stampede.
"Trying to save myself and do the big ones," the veteran said.
Be sure to stay tuned to PBRCanada.com and follow the tour on Facebook (PBR Canada), Twitter (@PBRCanada), and Instagram (@PBRCanada) for the latest results.