Parsonage Savors Magrath Victory
By: Kacie Albert Thursday, September 20, 2018 @ 5:19 AM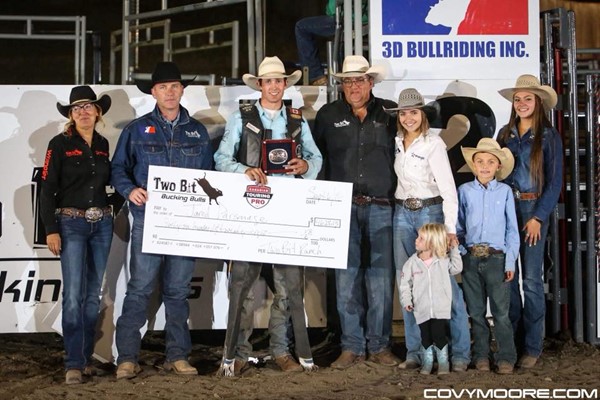 NEW YORK CITY – With four event wins and eight Top-10 efforts thus far in PBR Canada competition, it comes with little surprise that Jared Parsonage is currently No. 7 in the national standings as he looks to capture his first PBR Canada Championship.
The Maple Creek, Saskatchewan-native earned his fourth victory of the season at the most recent Canadian Touring Pro stop in Magrath, Alberta at the home of Two Bit Bucking Bulls' Josh, Tamara, Nevada and Montana Berezay.
RELATED: Parsonage Wins 4th Annual Celebration for the Two Bit Nation
"That's a neat venue and it's a beautiful yard and Josh and Tammy are just as great of people as you ever met," Parsonage said of the event and its organizers. "They're great people and I have a ton of respect for them and what the bull riding's for and what they represent. They're true to their word and they're great people and it's a good a good event.
"It's a fun place to go and I really enjoy going there. It's good hospitality, and its lots of fun and it's a smaller one that you look forward to going to because of the people putting it on and what it means to them.
"There a great family and they raise some dang good bulls too."
While many of the Berezay's bulls were in the draw, Parsonage did not draw any in his march to the win.
He began the event with an 85-point trip on X6 Ranch Bucking Cattle's Muddy Water, positioning him second in the aggregate heading into the championship round.
"He was a good bull," Parsonage said of Muddy Water. "He's been around for, well he's not that old, I think he's a four-year-old this year, but he was around lots last year and he does the same thing every time, he really bucks the first couple rounds and kind of levels out right there to the left.
"I knew when I drew him that was a pretty good chance, I probably should ride him, he suits my style and I fit him pretty good, he's big and I would get a good score on him.
"I couldn't probably ask honestly for a better bull to pick out of the long round than him."
Finishing strong, after earning a re-ride, Parsonage made the 8 aboard Flying High Rodeo Co.'s Second Hand Snuff for 78.5 points to propel him to the win.
The only rider to go a flawless 2-for-2, Parsonage collected a check for $5,247.92, in addition to 320 Canadian and 60 world points.
Rising to No. 7 in the national standings, now 1,128.33 points behind Canadian No. 1 Lachlan Richardson, Parsonage also continued his climb up the world standings, now ranked No. 57 and 402.5 points behind Richardson, the No. 35 ranked rider in the world, and a berth onto the elite 25th PBR: Unleash The Beast.  
 "I don't plan on going to them to not win," Parsonage said. "I haven't really gone to any [PBR's] since the start of July, Stavely is the first one I went to and Magrath."
"There are these Monster ones here in Abbotsford and Edmonton so, and then with the format at the Finals, there's no telling how many points a guy can win," Parsonage said of his plans for the remainder of the season. "A guy can win, or do good, and maybe close another four, five, six hundred points towards that, and then go into the PBR Canada Finals and have a good Finals there's no telling what could happen because there's going to be more points available, that's for sure.
"Go there, you ride four bulls, and that will take care of itself. "
One of those events is the first-ever Canadian Touring Pro event in Yorkton, Saskatchewan on Nov. 9-10, a home province event for Parsonage.
"The Saskatchewan events I'm pretty partial to them," Parsonage detailed. "I don't think there's a bad Saskatchewan event going.
"They always have a good crowd and everything is usually good about them. And Yorkton they used to have a CCA Rodeo all the time, and I had never gone to the CCA Rodeo, but I have no doubt it will be a great event.
"People support it out there, especially through Saskatchewan and Manitoba, people really support this stuff and get excited about it and it will be a great event, no doubt about it. I'm looking forward to it."
Matching his success in the PBR, Parsonage is also currently No. 5 in the CPRA standings, having earned $28,598.74 thus far this season. He trails leader Jordan Hansen by just $3,479.96.
"This will be my fourth CFR and this is by far the tightest race in the bull riding the years that I've gone to the CFR," Parsonage said of the race for the bull riding title in the CPRA. "There's five us that are within $2,500, $3,000 right in there for the season leader. I'm thinking it's going to be a battle at the CFR, it might be one of the best CFR's to watch as far as the bull riding is concerned."
With two titles within striking distance for Parsonage, he hopes that along the way he meets one specific bull – Berezay's Happy Camper.
"I like that bull, maybe one day I will get another spin on him," Parsonage said, hoping that meeting comes at the PBR Canadian Finals in Saskatoon.