Roy Eager to Lead Team Canada to Victory in Arlington
By: Kacie Albert Thursday, August 30, 2018 @ 11:41 AM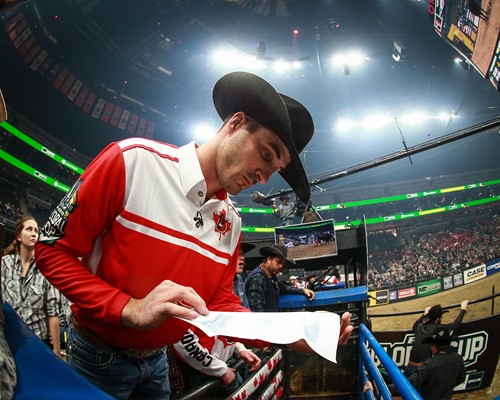 NEW YORK CITY – When the PBR Global Cup invades AT&T Stadium on Feb. 9-10, 2019, only two teams will be led by a coach that has also shepherded the nation through the inaugural legs of the five-nation event in Edmonton, Alberta and Sydney, Australia – Team USA's Justin McBride and Team Canada's Aaron Roy.  
"I was pretty honored to hear that," three-time PBR Canada Champion Roy said of his renewed status as the nation's leader.
Under his watch, Team Canada has earned back-to-back third-place finishes.
"It's been good," Roy said of the past events. "It's a little nerve-wracking that you've got to pick the bulls and put guys on them, but they help you out pretty well with looking up bulls and everything.
"They say what they want, but you've got to match everybody up to something that suits their style, and I have to research the bonus round bulls and at the moment I have to put somebody on that bull, or pick a bull and put somebody on that bull.
"We all do it as a team," he continued. "So it works out."
After Canada hosted the first-ever leg of the Global Cup, the event then travelled to Sydney, Australia this past June where the Canuck contingent fell just 19.75 points short of the event win.
RELATED: Team Canada Third at PBR Global Cup in Sydney
"Australia would have been a whole different outcome if we would have got marked appropriately on the first day I think. In my opinion they were a little low, but I wasn't judging there," Roy recalled. "We did all we could, we rode all of our bulls, maybe we should have taken a re-ride, but there was only three teams to ride all of their bulls and we were one of them."
Inside Qudos Bank Arena the eight-man Canadian roster went 13-for-18, including a 3-for-4 showing in the bonus round.
"The last bull we had in the bonus round kind of had an off day," Roy said. "Otherwise I think we would have went 4-for-4."
Despite the showing being even with their placement in Edmonton, Team Canada's effort was an improvement from Edmonton where there 14-man roster tallied just 10 rides.
Returning to compete alongside Roy for the third consecutive edition of the global event are his first two picks, Dakota Buttar and Tanner Byrne.
RELATED: Buttar and Byrne Look to Third Leg of Global Cup in Arlington
For Buttar, he went 1-for-3 in Sydney after his Edmonton event was cut short when he broke his foot on the first day of competition.
Byrne rebounded in Sydney as one of two riders to go a perfect 4-for-4, finishing second in the individual aggregate race to Kaique Pacheco, after going just 1-for-4 in Edmonton.
"The first two picks were kind of a no brainer," Roy said. "They're the top two guys in the world. I think they're sitting 13th and 19th in the world standings right now, and they're both riding really good."
With a familiar trio of Canadians already honing their sights on the event set to next be hosted by AT&T Stadium, there are still five roster spots and an alternate position yet to be filled.
"There's Brock [Radford], Lonnie [West], Zane [Lambert], there's lots of guys riding good in Canada right now and I've got lots of time to ponder over this," Roy said of the decisions that sit on his horizon. "There are three more spots from the national standings and then my pick, so anybody can get on the team right now.
"It all comes down to the last day of the finals there too. Anything can happen between now and the finals."
 Regardless of who his final slate of riders includes, one thing awaits every rider set to compete come February – a bull pen with a level of power yet to be seen at a Global Cup.
"It's the same as anywhere, you've got to get on bulls," Roy said of his general approach to the event looking forward, adding, "But there's going to be a whole new strategy because we're going to have the best bulls in the world there.
"It's going to be stepping up and get bulls covered because I think it's going to be anybody's game there.  Brazil is going to be the hardest team to beat I think, but it's going to be the rankest bulls in the world, so I think it's going to be who can stay on more.
"The bull power is going to be about three-times as good in Arlington, but that's what bull riding is all about."