Radford Readies for Unleash The Beast Return in Nashville
By: Kacie Albert Wednesday, August 21, 2019 @ 9:10 AM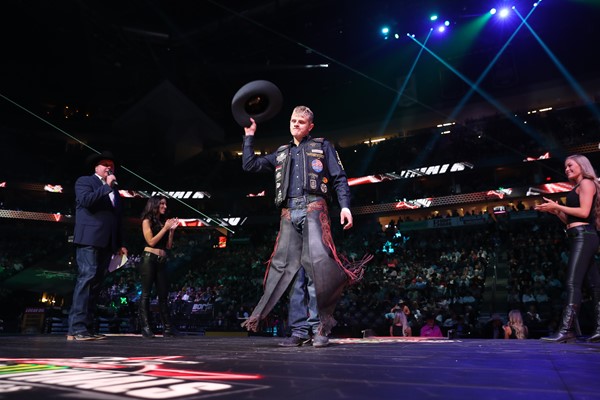 NASHVILLE, Tennessee – After making his premier series debut in 2017, competing at three events, Brock Radford was poised for a record year in 2018, focused on both a PBR Canada Championship and World Finals qualification.
However, while Radford finished just short of his first national title, concluding the year No. 2 in the Canadian standings for the second consecutive year, and rode at the 2018 PBR World Finals as an alternate, his season did not culminate how he had envisioned.
Also actively seeking a CPRA Championship and CFR qualification in 2018, Radford tore his left ACL and MCL at a the Jasper Heritage CPRA event in mid-August, sidelining him for the majority of the second half, and preventing him from competing on the Unleash The Beast until early October in Milwaukee.  
RELATED: Radford Tears His Left ACL, MCL in Jasper
Radford underwent surgery following the PBR Canada Finals in late November, and was out until July 4 when he returned for the iconic three-day Touring Pro Division stop in Calgary.
RELATED: Radford Eyes Return to PBR Competition
"Lots of the year left, lots of good events left," Radford said. "The metaphor I was trying to explain the other day, it's like you get to shoot ten baskets, but everyone hit five off the start, and now I've got to hit my last five, because I missed my first five shots."
However, despite the late start to the season, it has been a fast one for the Albertan.
After a 15th place finish at the 2019 Calgary Stampede, Radford has recorded six Top-10 efforts on Canadian soil, including a third and fourth place finish at the most recent Elnora, where he went 3-for-4 across his double entry.
Radford is now No. 18 in the Canadian national standings, 1,693.32 points behind No. 1 Jared Parsonage.
"A lot of guys are sore this time of the year and I feel like I'm starting to peak," Radford explained. "I feel like I'm back to my old self, I'm feeling healthy. Every chance there's going to be a double-entry bullet at these PBR Canada events, I will dang sure take it as long as I'm feeling good and healthy."
Through the events the 24-year-old has entered he has covered 50% of his draws, going 10-for-20.
"I'm covering a lot of bulls," Radford stated. "So I figured I mind as well double enter the PBRs and give a run at Jared anyways, not make it too easy for him. Shay [Marks] and Dakota [Buttar] are up there too, and I want to get myself in the mix as well and just go bull for bull and see what we can do at the end of the year. "
However, this weekend, Radford's campaign to return to his championship contending form will travel stateside as he is set to use one of his injury exemptions to ride in the fourth, and final, Major of the year in Nashville on Aug. 24-25.
"I feel good enough so I figured I mind as well go double down in Nashville and try to ride for $100,000 there too," Radford said.
At this weekend's event in Nashville, the winner is guaranteed a check for $100,000 and 625 world points, with one rider capable of earning as many as 1,250 world points. A $26,000 payday will also be up for the rider who logs the high-marked ride of the event.
Radford heads to the Music City ranked No. 109 in the world, 470 points outside of the Top 35.
"Hell, a guy does good at them big events, you're in the mix for a world finals spot again. And with the points change, our Monster events, like Abbotsford and Edmonton and them, they're big points. So there's a lot of points left, you know the second half of the year can win guy's titles and help guy's make finals, or make or break them really.
"I got a good first half of the year last year, and didn't get my second half really, and now I am getting my second half, and I just feel good and healthy."
All of this weekend's action in Nashville will be brought to fans LIVE via CBS Sports Network and CBS Sports. On Saturday, CBS Sports will televise Round 1 LIVE, starting at 8:00 p.m. EDT. The telecast will be preceded by the 30-minute B&W Trailer Hitches Inside The PBR Majors, presented by YETI, pre-show starting at 7:30 p.m. EDT. On Sunday, PBR will be LIVE on CBS Sports starting at 4:00 p.m. EDT.
Fans will be able to watch the action in its entirety live via PBR's new streaming digital platform RidePass. The listen live stream will begin at 7:30 p.m. EDT on Saturday, August 24 and at 3:45 p.m. EDT on Sunday, August 25.