Attitude Change Propels Biever to New Heights
By: Ted Stovin Friday, December 20, 2019 @ 7:55 AM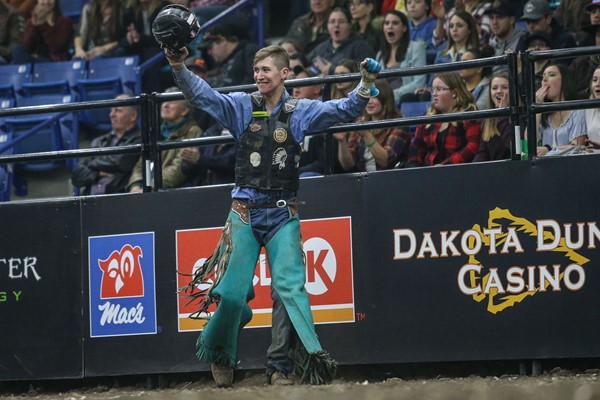 CALGARY, Alberta – First off, this guy is a rock star, but his name isn't Bieber, it's Biever.
They are both Canadian, but this guy, Logan Biever rides bulls and doesn't sing. As far as we know.
In his first three PBR Canada seasons, Biever's yet to finish outside the Top 20 in the nation and has a knack for making big rides at unlikely times.
A few weeks back, he earned his first PBR event victory in Dawson Creek, British Columbia.
"That's definitely a monkey off my back," Biever said. "It's something that's actually bugged me, kind of ate away at me slowly. I've had quite a few performances where I've got two rode and thought I might get the first win, but every time I'd jump out there and smack one away.
"I might be bottom guy coming into the short go and not have a very good long round ride and then three guys behind me would ride and move me down a couple spots. That was kind of irritating a lot of the time."
RELATED: Logan Biever Surges to No. 1 in Canada with Career-first PBR win in Dawson Creek
The past two years, Biever's experienced two of those close calls at a different British Columbia event, this one part of the Monster Energy Tour.
"Abbotsford both years, that's probably been the biggest one. They just won't let me win there it seems like," Biever laughed. In 2019 he finished fourth, while he was third in 2018.
Courtesy of the win in Dawson Creek, the 21-year-old is No. 2 in the PBR Canadian Standings after two events.
"It's pretty cool, that's probably the highest I've ever been in Canada I think," Biever said. "It's the start of the season, so it's kind of a give me because it's only been two events, so that could get taken away pretty easily. Hopefully that's where I'm going to stay for more of the year and not be chasing it and be Top 2 in the standings all year long, and not behind in the twentieth spot trying to chase it."
A three-time PBR Canada Finals qualifier, Biever has made a surges in Saskatoon each year, finishing third in 2017 to conclude the year No. 14 in the nation, while he finished 2018 No. 19 in Canada after a twelfth-place result.
In 2019, Biever finished seventh in Saskatoon to end the year No. 13 in Canada, his best finish yet in his young career.
"I can usually pull something together there at the finals, seems like," he said. "Throughout the year, going to every event, it seems like the other. When you're here at the Finals it's the real deal."
Error loading Partial View script (file: ~/Views/MacroPartials/RichtextEmbedVideo.cshtml)
The "real deal" is right as there is more on the line inside the SaskTel Centre than anywhere else in the league in Canada.
"At the end of the day, the greatest thing about the Finals is that you can go all year long and be No. 1 in Canada, but it comes down to the Finals," Biever said. "There's so many points available that if you really put your mind to it and you do good there you can really jump high in the standings. Or you'll have a chance of winning it even if you're in the tenth spot or whatever you may be. You have a chance of winning it if you do good."
This year, it wasn't only the Canadian title, but a $50,000 bonus on the line.
"Most of it comes down to the Finals, there's so many points available that I usually would come in the bottom spot, but by the end, I'd get enough points and that would jump me up," Biever said. "It kind of sucks, but hopefully this year I can be up in the standings. I'd like to take advantage of that and come into the Finals in a little bit better spot."
To be in contention come November 2020, the Claresholm, Alberta cowboy has a plan.
"I'd say consistency is the biggest thing," Biever said. "I feel like I can ride a lot of them bulls, but capitalizing on every bull that you get on is very important. A long round bull is just a long round bull and you've really got to capitalize in the short round. Keeping your consistency up and always having at least a Top 5 finish, getting points every weekend. That's definitely probably the biggest thing that's going to come into play is just really keep that consistency up." 
Already in the new season, he's won more than he did in all of his first year in 2017.
"Hopefully keep that rolling and just keep picking away and capitalizing on bulls that a guy should," Biever said. "Really try not to let those opportunities slip away on them bulls that a guy shouldn't buck off of.
"You want to keep climbing the ladder and go bigger and better places every chance you get, but if you keep your consistency up, you're winning more money, you're going more places, whether that's down south or wherever it's at. I want to go down there and then the end game plan is to end up at the World Finals."
And Biever hasn't only risen to the occasion on the biggest stages, but against the best bulls too like Uptown Funk in Abbotsford this past fall.
"When I saw that short round list, there were nine other bulls I wanted besides that one," Beiver said. "But it was just kind of that same thing, changing my mindset. Just going to do what I do and let it all hang out there."
Error loading Partial View script (file: ~/Views/MacroPartials/RichtextEmbedVideo.cshtml)
Contextually only three men have covered the bovine athlete in 23 outs.
Added confidence, helpful mentors and an improved mindset have been boosters for Biever.
"If I have to attribute any success or recent help in my career I've had recently on anyone it would be Ty Streeter with Wild Hoggs Bucking Bulls," Biever said. "There's been a lot of people help me get where I am today, too many to list, but Ty has been in my corner since the start building me into the bull rider I am today, from every piece of advice and instructive criticism, to having all the best bulls to always practice on."
Error loading Partial View script (file: ~/Views/MacroPartials/RichtextEmbedVideo.cshtml)
With the help of a mentor like Streeter, Biever also had to change his own mind about being one of the best bull riders at each event he went to.
"Being there and not having to look up to them guys thinking that maybe I'm on the bottom end of the spectrum," he said. "I'm there to do a job and I can throw stones with them kind of guys. I'm not one of them guys where a person is just like: 'Oh he's just here, he might ride one here and there.'
"A lot of it was changing my attitude. I can be one of them guys, I can ride with them. I might not be better than them but I can definitely ride with them."
Follow Ted Stovin on Twitter @TedStovin