Québec a Key Win for Kolbaba
By: Ted Stovin Tuesday, May 7, 2019 @ 10:35 AM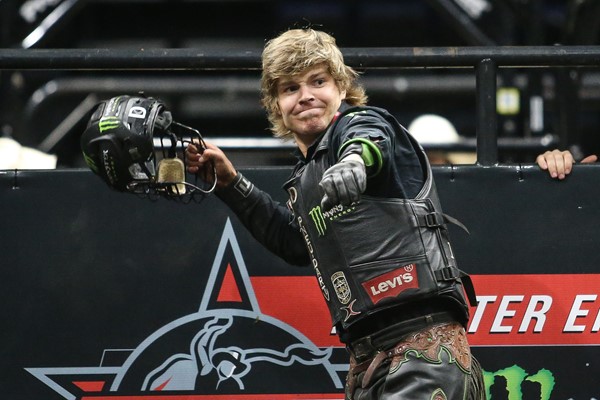 CALGARY, Alberta – Derek Kolbaba is the only bull rider from outside of Canada to have appeared at the PBR's lone international major all three times, and he has good reason to keep coming back.
In the event's three-year history, he's won twice, netting more than $60,000 USD.
"It's one of those events that I talk about throughout the year," Kolbaba said. "It's not very often that we come over to places like this where the bull riding is announced in French and most of the people don't really know how to speak English. It's really fun, and the crowd really gets behind it."
After a sub-par start to the year, Kolbaba has seen increased success in the past month with Top-5 finishes at the two most recent Unleash The Beast events in Columbus and Billings, and a second-place result in the Columbus 15/15 Bucking Battle.
"It was kind of a shitty start to the season." Kolbaba said. "In this bull riding thing you can either let that hound you all year or you can say that the beginning of the year was kind of tough, but we gathered it up and turned it around."
On Saturday night at the Videotron Centre, Kolbaba would attempt four bulls in the Canadian Iron Cowboy, taking home 350 world points which moved him from No. 11 to No. 7 on the planet.
RELATED: Kolbaba Wins 2019 PBR Canada Iron Cowboy
"The fricken points are what it's all about," he said. "I mean that is what is pushing us towards that end goal. Anytime you can go and gather 300 points or even 100 points that's going to make the difference at the end."
In 2017, after the win in Québec, Kolbaba went on to finish the year in the No. 2 spot in the World Standings, second only to World Champion Jess Lockwood by 447.5 points. Here in 2019, it remains to be shown how valuable the points will be.
RELATED: Kolbaba Wins PBR's First International Major in Québec
"It's been really good to me," he said of the event in the capital city of Canada's primarily French-speaking province of Québec. "Kind of a change in format this year, but it's all the same thing you got to show and ride your bulls and it felt good this year"
Finishing the event 3-for-4, the night began with an 86-point, Round 1-winning effort on Applause. After that routine ride however, he was stepped on after his dismount, adding to the journey.
 "You make a good bull ride and you try to get off of him clean and you know, shit doesn't always work the way you want it to," Kolbaba said. "You kinda just got to tough it out and just keep on keepin' on. It damn sure is a long way from the heart."
In Round 2 he took Dylan's Devil to the 8-second whistle for an 86-point score to lead the way into Round 3 based on the aggregate score of 172 points on two bulls. In Round 3 none of the four riders qualified would stay on, setting the showdown between him and Oklahoma's Brennon Eldred in the fourth and final Round.
Eldred needed to ride his bull to overtake Kolbaba, but came up short meaning Kolbaba would win the event. All that remained was a chance at another $20,000 for riding his final round bull, who was appropriately name One for the Money.
"When you hit the ground and everyone is on their feet hootin' and hollerin' you know something went good and it fires us up too," Kolbaba said. "That is what it is all about, having fun and enjoying what you do."
The score was an event-best 88 points to move his event haul past the $35,000 CAD mark.
"I didn't really know how it would all pan out payout wise, but I knew if I just showed up and gave it everything I had each bull it would all work out in the end.
"It's damn sure a great bonus," Kolbaba added, not knowing he had already won before the final out for the bonus money.
"I knew there was a task at hand and it's not necessarily going up against the other guys, it's between you and the bull. Once we climb down in there and that motor is running you have a job to finish and that's what we did."
The PBR Canada Monster Energy Tour continues from London, Ontario at Budweiser Gardens starting at 7:00pm EDT on Saturday, May 11. Tickets remain available online at BudweiserGardens.com or the venue box office.