Radford Sets Sights on Canadian Title After Back-to-Back Runner-Up Year-End Finishes
By: Kacie Albert Wednesday, October 9, 2019 @ 4:28 PM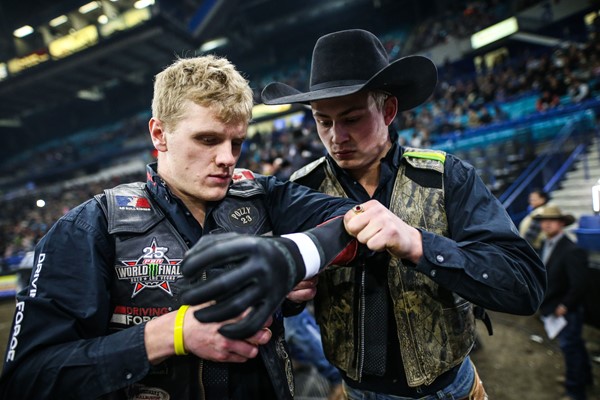 GREENSBORO, North Carolina – For Brock Radford, the past two PBR Canada seasons have ended in heartbreak.
Despite dominant performances on home soil in both 2017 and 2018, the Albertan fell just short of a national title, finishing runner-up in the standings during both campaigns.
This year, however, Radford is more determined than ever to leave Saskatoon, Saskatchewan, and the SaskTel Centre on Nov. 23 with a PBR Canada title in his hand and the $50,000 bonus.   
"What I'm working at is just trying to get in striking distance really which anyone is within striking distance if they're in the Top 10, realistically, [because] there's so many points at Saskatoon," Radford said of the current title race. "So if I can get every inch closer before Saskatoon, and preferably be in the Top 5 when we go to Saskatoon, would be the best and that's what I'm working at."
And while his determination may be a mirror image of past seasons, his competition resume is not.
After undergoing reconstructive knee surgery at the conclusion of the 2018 season to repair a torn ACL/MCL sustained in at a CPRA event in Jasper, the 24-year-old did not compete at his first PBR until July 4, 2019.
RELATED: Radford Eyes Return to PBR Competition
Since, Radford has competed at 13 PBR events on Canadian soil, including the 2019 Calgary Stampede.
He has amassed 10 Top-10 finishes in the three months' time leading him to sky rocket from unranked to No. 7 in the Canadian national standings, now within 1,550.83 points of No. 1 Dakota Buttar.
Radford most recently ascended to the No. 7 ranking after recording his second consecutive runner-up finish at the first-ever PBR event in Grande Prairie.  
RELATED: Thor Hoefer II Wins Grande Prairie Buckwild PBR
Going 2-for-2, he rode Can't Catch Me for 83 points, and Homeboy for 86 points to finish second in the aggregate to event winner Thor Hoefer II by a mere 0.5 points.
 "It worked out good," Radford reflected. "It's not really what I wanted, but I feel good.
"I'm working back to where I want my riding to be at. The better bulls are starting to slow down for me so it's working out and what not."
As Radford continues to return to his winning ways, he is finding himself more and more in the thick of what is shaping up to be the tightest, most contentious PBR Canada Championship race in league history.
With No. 1 Buttar a mere 122.52 points in front of No. 2 Jared Parsonage, and No. 3 Shay Marks just 480 points back, the Top 19 riders are all within 2,000 points of one another, fewer than the amount available at the 2019 PBR Monster Energy Canadian Finals, presented by Dakota Dunes Casino.
"There's a bunch of good guys riding for it," Radford said without hesitation. "I think I know more than anybody it comes down to the finals. A guy can go there, ride four bulls and win the finals, I'm pretty sure that's going to be the guy who wins the $50,000."
At the season-culminating event, one rider has the chance to leave the SaskTel Centre with a maximum 2,250 points: 1,250 to win the average, and 250 available in each of the four rounds.
"I think it works because it makes better bull riding and more of a competition when there's that many points at the finals," Radford explained. "Mathematically, guys in the Top 10 have a shot to win the Canadian title if everyone screwed up in front of you.
"More realistically, every guy in the Top 5 damn sure has a shot to win it.
"It's kind of crazy how you can win that many points at one event, which is pretty much more points than you can win in the whole season, which is kind of crazy, but I like it. We all go all year, so we all have that chance to make the lead and we're all pretty even. We're all going to go to Saskatoon, so at the end of the day it's even in my mind.
"It's us versus our bulls and let's see what happens and where it places us. If one of those boys goes in there and stubs his toe, I'm not wishing him to do that, but I'm going to do my part, and if they stub their toe, I hope it works out for me."
Adding to the stakes this year, riders will not only be competing for the coveted national title, but also the accompanying $50,000 bonus, new to this season's race.
"I think every guy in Canada should be excited about that because that's a goal that every guy should have starting the New Year is working towards that, or having a shot at that towards the end of the year," Radford said of the payday that awaits one rider on the final day of the season.
"That can setup a lot of guys. Gives guys honestly the opportunity to stay up in Canada to with that amount of money up, plus all the money you can win going to PBRs, if guys work it right and you can do your summer runs right and make the CFR too, a guy doesn't really have to leave Canada if they don't want to."  
But while fans have mostly seen Radford on Canadian soil, he has made two appearances stateside on the elite Unleash The Beast.
However, he remains committed, and ever focused on the Canadian title.
"The past few years I've been kind of, nobody wants to say no to going and riding against the best guys in the world, the best bulls, and I think that kind of took away from me winning the Canadian title the past two years is that I haven't been focused up here, and I've been going down South," Radford said.
"Right now what's in my cards is the Canadian Finals and that $50,000, so that's what I'm focusing on. So I will stay up in Canada, get healthy, get my mojo going, and dang sure in January I will be heading after them and try to get back on tour, and I've done it twice before so I can do it again."    
PBR Canada's Monster Energy Tour resumes on Saturday, October 19 with the Abbotsford Classic in Abbotsford, British Columbia. Action inside the Abbotsford Centre begins at 7:00 p.m. PT.
Be sure to stay tuned to PBRCanada.com and follow the tour on Facebook (PBR Canada), Twitter (@PBRCanada), and Instagram (@PBRCanada) for the latest results.