Two Bit Nation Readies for Historic PBR World Finals
By: Kacie Albert Thursday, October 24, 2019 @ 10:38 AM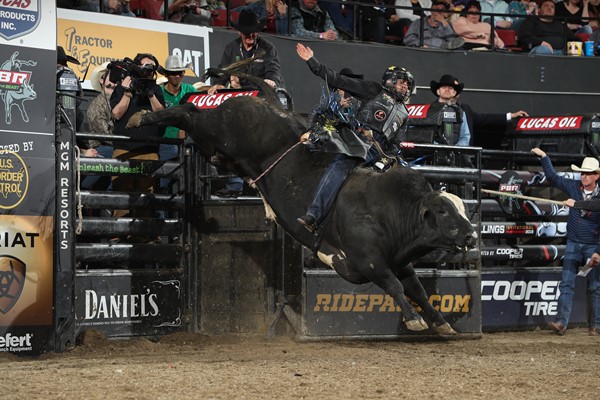 TORONTO, Ontario – Two weeks from today, the 2019 edition of the PBR World Finals will be in full swing, with the 150-plus bovine athletes making the trip to Las Vegas for the five-day spectacle snug in their Sin City accommodations.
And of the near 200 bovine athletes selected to compete, 10 hail from the nation of Canada, with Two Bit Bucking Bulls set to make history, taking multiple bulls for the first time in the outfit's tenure.
RELATED: Ten Canadian Bulls Selected to Buck at 2019 PBR World Finals
"Started from a dream saying wouldn't it be cool to have bulls there someday and we've been fortunate enough to do it," Josh Berezay said.
While reigning PBR Canada Bull of the Year Happy Camper is preparing for his third trip to bull riding's most prestigious event, Catch My Drift will make his first appearance.
"That's just one of those things that you strive for, and you don't know whether it will ever happen," Berezay said humbly of two of his bulls earning a selection to the PBR World Finals. "These bulls are very hard to come by, so when you get two that got the attention of Cody [Lambert], and you ended up getting two in there, it's a pretty big deal."
For Happy Camper, his selection comes as he was relegated to the sidelines for upwards of 110 days this summer as he recovered after losing his toe cap.
RELATED: Bull of the Year Happy Camper to Return for Celebration for the Two Bit Nation Touring Pro
In his return, not only did Happy Camper buck on the very property he was born, making his comeback at Two Bit's annual Touring Pro Division event, but he appeared to have not missed a beat during his recovery.
Dispatching Brock Radford in a swift 3.81 seconds, the bovine athlete was the high-marked bull of the event, earning a 44.5-point bull score.
More broadly, Happy Camper has bucked seven times in 2019, including two outs when he made his regular-season debut on the elite Unleash The Beast in April in Billings, Montana. After he was ridden by Junio Quaresima for 86.75 points in Round 1, he returned with a 3.32-second buckoff of Cannon Cravens in Round 3. Round to round, his bull score improved, first marked 42.25 points and then 43.5 points.
Happy Camper also wowed on home soil prior to his injury, and is once again a top-contender for the season's Canadian Bull of the Year honor. On the premier Monster Energy Tour, marking his first two trips of the year, Happy Camper earned back-to-back bull of the event honors in Lethbridge and Calgary, Alberta for his 44.5 and 44-point bull scores, respectively.
"He's really feeling his oats right now," Berezay said of Happy who hasn't competed at a PBR stop since the September Touring Pro Division event when the bull made his triumphant return. "I'm excited for Edmonton, blow the dust off of him, and get ready for Vegas. I'm expecting him to show up there, that's for sure."
When Happy Camper steps hoof off of the trailer in Sin City, it will mark his third appearance at the PBR World Finals.
After making his debut in 2017, when Dener Barbosa became the first rider to cover him for an 87-point score in Round 3, the bovine athlete returned to the World Finals in 2018, again ridden by Barbosa in the third round, scored 84.75 points. In the two outs, Happy Camper's score improved: he was 42.5 points in 2017 and improved to 43 points in 2018.
"As long as you're playing his song, it doesn't matter where he's at," Berezay said of the bull who is known to buck to the beats of Rhino Bucket.
This year, however, Happy Camper will not make the trek alone, joined by Catch My Drift.
"He's filled out, matured," Berezay said of five-year-old Catch My Drift. "I think he's a Top 5 bull in Canada, and has been for the last year," Berezay continued. "Ever since last year at the PBR Canadian Finals he just kind of turned a corner and he's been really consistent, and all there, all year long."
Among the bull's many highlights thus far in 2019, not only did he record a career-best score, marked 44.5 points in July at the Touring Pro Division stop in Calgary, but Catch My Drift made his Unleash The Beast debut in April in Billings.
Earning two trips in Montana, after bucking off Luciano de Castro in 2.18 seconds, marked 44 points, Catch My Drift was then ridden by current world No. 1 Jose Vitor Leme for 86.25 points.
"Them bulls seem to be on a different playing field this year," Berezay said of his bovine athlete duo.
And while Happy Camper and Catch My Drift are the latest bovines from the Two Bit Nation selected to compete at World Finals, they follow in the footsteps of Bucking Fantastic and Bringing Sexy Back who were Berezay's first selections to the event.
Bucking Fantastic made his trip in 2012, marked 43.5 points when he dispatched Kody Lostroh in 7.84 seconds, while Brining Sexy Back competed in 2013, besting Fabiano Vieira in 3.16 seconds for a 42.75-point score.
"We had a little lull until Happy came along," Berezay reflected. "This is our fifth time going, and first time with two bulls."
With prime focus being on both Happy Camper and Catch My Drift for both Josh and wife Tammy, the trip will also mark a family reunion of sorts for the Berezays.
"Kind of a weird place to have it, but we enjoy it, we love it," Josh remarked. "Me and Tammy, the first time we went to the World Finals was in 1999 and we haven't missed a year since. And my brother Dan and his wife come with us in 2000, so it's their 19th year.
"I think I've got six or seven siblings going to be there so that's a big deal for us. And the girls are busy this year, so they're going to be home, but Tammy is of course coming so it'll be good!"
Be sure to stay tuned to PBRCanada.com and follow the tour on Facebook (PBR Canada), Twitter (@PBRCanada), and Instagram (@PBRCanada) for the latest results.