Roy Adds Iconic Title to Resume at Glen Keeley Memorial
By: Ted Stovin Thursday, September 5, 2019 @ 8:45 AM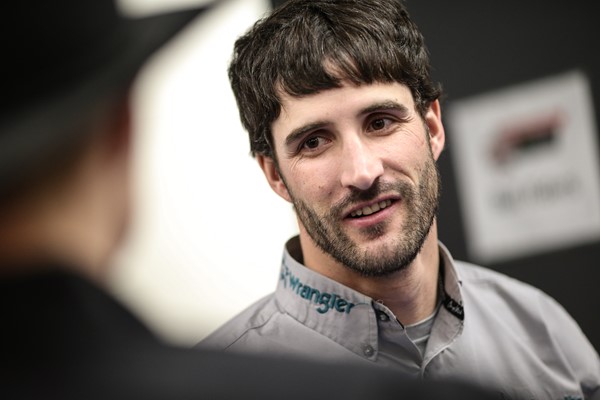 CALGARY, Alberta – On Saturday night inside Stavely Arena, the only Canadian to ever earn $1,000,000 in PBR competition and the lone three-time PBR Canada Champion added another title to his resume – Glen Keeley Memorial Champion.
And not only was it a special event title to capture, regarded as one of the most prestigious on Canadian soil, but one that had remained at the top of Aaron Roy's list to win before the end of his career.
Nanton, Alberta's Glen Keeley passed away in March 2000 due to injuries sustained when he bucked off World Champion Bull Promise Land at the Ty Murray Invitational in Albuquerque, New Mexico. 
Established in 2004, the Glen Keeley Memorial has been put on by his family and friends for 16 years, raising more than $250,000 for the Glen Keeley Benevolent & Scholarship Fund.
"It feels good to get the first win at this event," twelve-year PBR veteran Roy said after claiming his first Glen Keeley buckle. "It means everything. It's an event that everyone strives to win throughout the year and to be able to get a buckle with Glen Keeley's name on it means a lot. I don't know if I'll wear it, but it'll definitely sit on a shelf and be front and centre."
"It's a memorial buckle for me. I cherish those and take them dear to heart and probably, Axel will wear it once he sees it."
RELATED: Three-time PBR Canada Champion Aaron Roy Wins Glen Keeley Memorial PBR
In 2011 Roy came close to winning the event, however was edged out by three-time Glen Keeley Memorial Champion and 2020 Team Canada Global Cup assistant coach Tanner Girletz.
"I came close quite a few years," said Roy of previous events in Stavely. "I actually got drawn back that year, [and] got thrown off a bull I shouldn't of in the long round. In the short round I was 90 and got beat by Tanner Girletz, The King of Stavely."
This past Saturday, Roy, who was a double entry and also finished sixth, went a collective 3-for-4 at the iconic to earn $5,589.43, in addition to 350 Canadian points.  
In Round 1, Roy first rode Chiseled in Stone for 80 points. From there, Roy's momentum continued. He sealed the event win when he covered Tykro Pound Sand for an event-best 88.5 points.
The five-time Glen Keeley Award winner's sixth-place result was earned courtesy of an 84.5-point trip on Tom Petty.
"I was 80 in the long go on my re-entry bull and then, I got thrown off my drawn bull which, was all rider mistake," Roy explained. "But then I come back in the short round and got drawn back in to the short round and rode a bull, Tom Petty, who bucked me off in Prince Albert earlier this year. And then I got revenge on Pound Sand. He bucked me off here last year to probably win the event."
Not only was Roy the only rider to go 2-for-2, but he was the only rider to make a qualified ride in the championship round -- and he made two.
"I didn't expect any of those other guys to fall off," Roy detailed. "They all had bulls that they really liked, that's just how bull riding goes sometimes."
Roy is now ranked No. 15 in Canada as the season marches towards the 2019 PBR Monster Energy Canadian Finals, presented by Dakota Dunes Casino, in Saskatoon, Saskatchewan on Nov. 22-23. The season-culminating event will feature the Top 20 riders from the national standings vying for the coveted PBR Canada Championship in addition to the season's $50,000 bonus.
After a near career-ending injury in 2013, a broken back, and another of the same calibre in 2016, a broken femur at his seventh PBR World Finals, Roy has yet to make his return to the elite level.
"Tonight was good," Roy said in Stavely. "It finally felt like my old self. I've kinda been going and haven't been having very good luck. Either draw the hardest one in the pen or the best one in the pen, and I hadn't been able to draw that middle of the line and I needed to step my game up here and decided to actually start riding again.
"You never know how long I am gonna be able to do this anymore."
PBR Canada Touring Pro Division action continues on Thursday, September 5 with The Celebration for the Two Bit Nation, hosted by Josh and Tamara Berezay of Two Bit Bucking Bulls.
RELATED: Bull of the Year Happy Camper to Return for Celebration For The Two Bit Nation Touring Pro
Since the inception of the event, each year the Berezay family has raised money in support of a local family battling cancer. This season, they will support one of bull riding's own, donating all proceeds to injured rider Klayton Lakevold.
RELATED: Lakevold Injured at PBR Canada Event in Lloydminster
Lakevold was injured on Aug. 12 while attempting Certified & Tested when he was jerked down, which led to a collision with the bull's head. He was hospitalized in Edmonton for a week until he was moved to continue his recovery closer to home in Provost.
The Celebration for the Two Bit Nation gets underway at 7 p.m. MDT. Tickets are still available and can be purchased by calling (403) 758-6137.