Tanner Byrne Charters Course for Future Events After Successful Tanner Byrne Invitational
By: Covy Moore Friday, August 21, 2020 @ 9:15 AM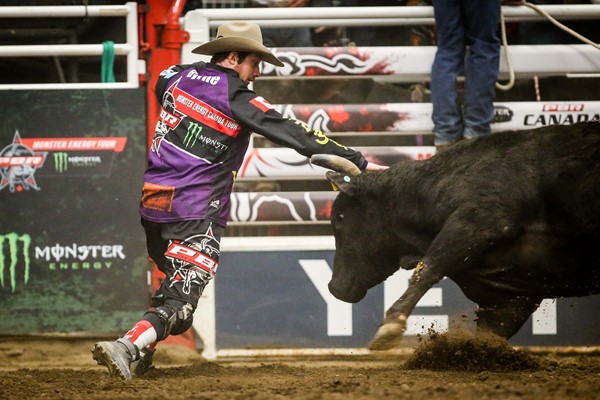 AIRDRIE, Alberta – The first-ever Tanner Byrne Invitational, part of the PBR Touring Pro Division, was nothing but a success.
Not only did the event mark just the third time in more than 170 days that riders had the change to compete, but, it also welcomed a crowed of a socially-distanced 150 people, the first time fans were at an event and within direct proximity to the arena since the onset of the pandemic.
RELATED: Professional Sports Return to Canada with Back-to-Back PBR Events Highlights by Drive-In Event in Lethbridge, Alberta
Prior to the event, Tanner Byrne and his family's stock outfit Flying Four Bucking Bulls put on two unsanctioned events since the start of the COVID-19 (coronavirus) pandemic – First a practice pen, followed by an open bull riding that saw many PBR Canada campaigners compete, including Jake Gardner who took home the win.
RELATED: Gardner Sharpens Skills at Flying Four Practice Pen
But, with the 2020 schedule still largely an unknown, with few events remaining on the calendar, Byrne and his family were determined to create opportunities for the community to compete.  
"Bull riding is my entire life so I wanted to make sure that guys had somewhere to go and somewhere to make money and get back to some sort of normalcy in what is working out to be the craziest time ever," Byrne said.
"Guys are trying to make it by and are having to get real jobs, and I know myself as a former bull rider if I was going through that I would really want somewhere to go. I am going to do everything I can to help try and grow the sport and have some events, and it turns out that I can do it all in my backyard.
The PBR Canada Monster Energy Tour returned to action in July with a double-header in Lethbridge, blazing the path for the safe return of professional sports in Canada. However, the event, looked a bit unique, with fans welcome outside the arena for drive-in viewing. Much like the premier series, Byrne and his family had to adjust to the new reality and modify the event to fit within the confines of current health and safety regulations.
 "The worst part of it is right now, it's just tough times. All across the world, it's everywhere," Byrne began. "The PBR down south are just getting to everywhere they can to put events on. We are all just adapting to the environment. That's what I am trying to do."
And with the support of his local community, the Tanner Byrne Invitational came to fruition, held on Thursday, August 13 at the family's ranch outside of Prince Albert, Saskatchewan.
"I went out to my community to get some backing and see what we could get," Byrne said. "This stuff doesn't happen without the support the businesses and this community that are involved. The response I got was through the roof."
For the Tanner Byrne Invitational, not only did the event welcome fans back to the arena, in this case an outdoor arena, but it got them closer to the action than ever before, with the available seating located directly adjacent to the fence line.
"There were a lot of people that came out and have been to bull ridings, but didn't understand the athleticism of the animals and the riders. It's helping the sport grow in Prince Albert," Byrne said.
"It's just awesome to see, and you can't do this stuff without the support of those people. Without those sponsors bull riders don't get to ride for money and some of us don't get to have a job during these crazy times."
One aspect of the typical bull riding world that Byrne admits he misses is the ability to be able to include multiple stock contractors, with The Tanner Byrne Invitational featuring just two -- his own Flying Four Bucking Bulls stock, and those from long-time friend Lane Skori, of Skori Bucking Bulls.
"The hardest part is that I want to bring out all the contractors that bring us to their events, but with the rules and regulations you are only allowed so many numbers. Luckily Skori Bucking Bulls is pretty deep and we are able to pull it off.
"Everything, right from chute help to everybody involved, you have to keep the numbers low and at a minimum. You want to have a lot of people involved, but you have to make due with those that you can," Byrne added.
"When we first got into Flying Four Bucking Bulls, our first cows came from Ellie Skori. There is a lot of history with my dad and Ellie, and me and Lane. It's pretty cool to see Skori and Flying Four Bucking Bulls put on a full-fledged event with eight short-rounders that could be in the short round of any Monster Energy event. I take my hat off to Skori Bucking Bulls and continuing to come out every time."
For the future, Byrne is hoping to be able to put on a complete PBR-sanctioned series, with two more outdoor events, and three indoor events ahead of the PBR Canada Finals.
RELATED: Lonnie West Dominates in Prince Albert to Win Inaugural Tanner Byrne Invitational
"I want to have a little series," Byrne explained. "I was thinking three outdoor events and then roll inside, depending on regulations. Head into the Max Clunie Coliseum. We hold our bull riding bullfighting school there, it's a top notch facility.  I'd love to keep it going, especially now with more events cancelling and with guys not having anywhere to go. It is something that everybody wants to do. For me there it's a lot of work and planning, but it's so worth it to see the community come together."
"I am a fan of the sport, I love this sport, I want to make sure there are events and there is a place for guys to get involved. The guys keep supporting it, our great sponsors keep supporting it, there is no reason we can't do it."
The PBR Canada Touring Pro Division will next travel to Stavely, Alberta and Stavely Arena for the Glen Keeley Memorial on Saturday, August 22. Action gets underway at 5:00 p.m. MT.