Built Ford Tough Top 50: First-Ever PBR Canada Champion Scott Schiffner Retires in 2018
By: Kacie Albert Wednesday, May 6, 2020 @ 1:44 PM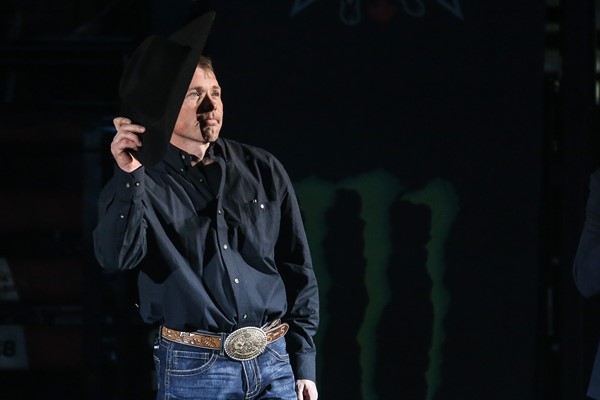 NEW YORK CITY – Arguably one of the most decorated Canadian bull riders in history, Strathmore, Alberta's Scott Schiffner had an illustrious career.  
After making his professional debut in 2003, Schiffner competed on the PBR ranks for the first time in 2004, setting forth on what would soon be seen as a historic path.
Setting countless records, Schiffner amassed a laundry-list of accolades including: First-Ever PBR Canada Champion (2006); Two-Time Canadian Professional Rodeo Association Champion (2001 and 2012); Two-Time Calgary Stampede Champion (2001 and 2014); PBR Canada Finals Event Winner (2013); CPRA Cowboy of the Year (2012); and Guy Weadick Award winner (2011).
RELATED: Scott Schiffner Wins PBR Canada National Champion Title
In fact, in bull riding, Schiffner is the one rider that has ever won a PBR Canada, CPRA and Calgary Stampede Championship.
"If you can do that, you have won everything possible," two-time PBR Canada Champion Zane Lambert said.
"Those are the three biggest events we have in Canada. You are a pretty good bull rider if you cover all three. That is pretty cool that he is the only to ever do it. He has given our local fans something to cheer for and he has helped build our fan base. He was a big part of it.
However, as the cliché tells, all good things must come to an end.
And in 2018, against an ever-fitting back drop of the Calgary Stampede, Schiffner announced that he would soon hang up his bull rope, set to retire at year's end.
RELATED: 2006 PBR Canada Champion Schiffner Announces Retirement
"It's been the $1 million question from everybody for the last five years, truthfully, just where I'm at in my career," Schiffner explained. "The decision was made in the last couple of days here. My wife, Brandy, and I … we had a real good talk. It was good and it was bad all at once. There were answers and questions, and I always said, in lots of interviews, that I wasn't going to announce my retirement. I was just going to come home and know and I wouldn't go back.
"But my wife put it into perspective. She said, 'Sometimes, that's being selfish.' There's fans and people I owe my career to that might like the opportunity to shake my hand one more time or get to watch me ride one more time."
Known for his grit and longevity, Schiffner made his PBR premier series debut in March 2004 in Indianapolis, Indiana.
While he was shutout in his first two forays on the Unleash The Beast, it didn't take him long to find his groove, recording his first qualified ride on the elite tour on April 24 in Nampa, Idaho, covering Crown of Thorns for 86.5 points to propel him to a 17th-place finish overall.
In the years that followed, the four-time PBR World Finals qualifier reached the 8-second mark 216 times in his PBR career at all levels competition, including 17-for-94 (18.09 percent) on the PBR premier series.
"He is definitely one of the best bull riders in Canada," three-time PBR Canada Champion Aaron Roy said at the time. "His consistency to ride in Canada. Back in the day, he was willing to go to everything possible in Canada. He would drive from one side of the country to the other. He would hop on a plane just to get there and get on a bull. It wouldn't really matter what he had. He would get on and stay on."
After becoming the first-ever PBR Canada Champion and making his World Finals debut in 2006, Schiffner had his best season with the PBR in 2007, finishing No. 50 in the world after competing at a career-best 20 Unleash the Beast events.  
RELATED: Scott Schiffner Crowned First-Ever PBR Canada Champion in 2006
The 2007 season also bore witness to Schiffner's high-marked Unleash The Beast ride, covering Rompus for 88 points at the 2007 PBR World Finals.
In PBR Canada competition specifically, of the 216 qualified rides Schiffner logged, 150 were on home soil, leading him to 20 PBR Canada event victories.
"It was a great career and I am just really proud to have been able to witness it and get to travel with him a little bit," 2015 PBR Canada Champion Tanner Byrne added. "He is a great ambassador for the sport and the country of Canada. We are going to miss him, but I am sure he won't be far away and he will find some other avenue or aspect in the sport of bull riding and be around."
"Scott was, and is, a prolific Canadian bull rider. He is a Canadian champion. He is known as the winningest Canadian bull rider there has ever been. He is just a standout guy all around."
And while fans may have last witnessed Schiffner compete at the 2018 Canadian Finals Rodeo, he remains active in the community – most recently coaching Team Canada at the 2020 PBR Global Cup USA.
No stranger to the team environment, riding for Team Canada at the 2002 Olympic Winter Games in Salt Lake City when he won Round 2 of the bull riding with 92 points aboard Just Spoofin., Schiffner was honored to receive the call and hold yet another role in the industry he loves.
RELATED: First-Ever PBR Canada Champion Scott Schiffner to Coach Team Canada at 2020 PBR Global Cup USA
"To be asked to be a coach at the Global Cup was a big honor," Schiffner said. "It's one of them deals, like I was a part of all four of the World Cups when they had them and it was one of the greatest experiences I had as a bull rider."
Tune into RidePass to see Schiffner's coaching excellence from the most recent edition of the PBR Global Cup USA, and stay tuned to PBRCanada.com to learn when you will next be able to catch his in-depth analysis on the TSN family of channels.