Flashback Friday – Canada's Best Head South to Begin the 2021 Season as March Brings More Anticipation for the Return of Events
By: Kacie Albert Friday, April 2, 2021 @ 11:24 AM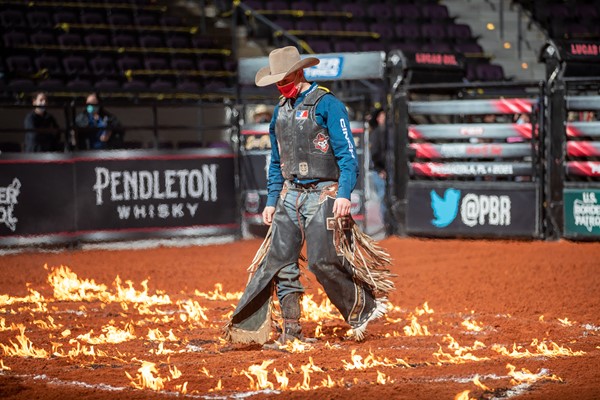 NEW YORK CITY – While events have yet to get underway in Canada in 2021, in March, Alberta's Logan Biever got some company south of the border, with five additional Canucks making the trek stateside.
However, just because the competition schedule has yet to begin, that doesn't mean PBR Canada's finest, both riders and bulls, remained idle on home soil.
RELATED: Flashback Friday – PBR Canada's Beast Eager to Return as February is Marked by Throwbacks, Celebrations and More
Today we take a look back at the highlights from March as told by the month's can't-miss social moments!
But first, let's take a minute to appreciate this adorable calf that Jared Parsonage brought to all of our feeds!
HEIGH-HO, HEIGH-HO, TO THE UNITED STATES WE GO
Lonely no more! While Biever has been stateside since January, the lone Canadian riding in the United States, he is now in good company, joined by the likes of Jake Gardner, Wyatt Gleeson, Tanner Eno, Ashton Sahli and Tyler Craig.
In his 2021 debut, Gardner  made a splash, going 1-for-3 on the Pendleton Whisky Velocity Tour to tie for 11th in Pensacola.
After turning heads in his rookie season in Canada in 2020, Eno made sure to get a few practice outs in ahead of his American PBR debut, slated for April 3 in Lebanon, Missouri.
RELATED: Surging Sophomore Rider Tanner Eno to Travel Stateside to Begin 2021 Season
And he'll be making his first-ever trip in American wearing some new duds!
Following Eno's lead, Craig also spent some time of his own in the practice pen.  
TIME TO BUCK
Canada's top riders aren't the only ones heading south for some early season action!
RELATED: Flying High Rodeo Company Sends Bucking Bull Campaigners to Elite Unleash The Beast in 2021
At the start of the year Flying High Rodeo Co. sent a roster of their bovine athletes to Texas to buck with Jeremy Walker's Paradigm Bull Co. The result – some impressive trips from both Lil Loco and Blackfoot Nation.
One of those outs was this effort logged by Blackfoot Nation, a 2.01-second buckoff of two-time PBR World Champion J.B. Mauney in 2.01 seconds in Glendale, Arizona.
And for those bulls still in Canada – their itching to get back to work!
From reigning Stock Contractor of the Year Nansen Vold, Trapped started to knock the rust off and looked ranker than ever!
READY WHEN YOU ARE
With the weather slowly starting to warm, hinting to summer days on the near horizon, those riders still in Canada are more eager than ever to get back to work.
Just ask Shay Marks, Lonnie West and Brock Radford.
And for bullfighter Ty Prescott, in his break from the action, he's taking time to teach the next generation!
RELATED: Ty Prescott Reflects on 2020 Campaign, Eager for 2021 to Kickoff
We also can't forget about our beloved announcer Brett Gardiner and official entertainer Brinson James! Eager to get back in the arena and on the mic, the two caught up to talk about all things past, present and future.
ENJOYING THE MOMENT
Before Gardner headed south, he took some time to go fishing with his dad – hooking these impressive catches!
And can you name a more adorable cowboy than two-time PBR Canada Champion Zane Lambert's son?
Speaking of the younger members of the PBR Canada family, Seneca and Fabian Dueck now know they will be welcoming a little boy in the coming months!
RELATED: Wedding Bells, Baby Fever and More Take Center Stage for PBR Canada's Finest in January
THOSE WERE THE DAYS
And while everyone is focused on brighter times ahead, that didn't stop some from throwing it back to the past!
Radford looked to the 2018 Cowboy Ski Race, gracing our feeds with this incredible flick of him alongside Todd Chotowetz, Tim Lipsett and Danny Vandenameele.
Parsonage, well he took it back a little further, reliving the 2015 Canadian Finals Rodeo. Can you name the complete cast of characters in the photo?
Leave it to Tanner Byrne though to bring us this gem with him and two-time PBR World Champion Justin McBride!
Hard at work on the NFP Podcast, catch every episode here, with the latest episodes featuring the likes of McBride, 2016 PBR World Champion Cooper Davis and UFC fighter Donald "Cowboy" Cerrone.