Griffin Smeltzer Rides Team Series Signing to Victory at Home
By: Covy Moore Tuesday, May 31, 2022 @ 11:19 PM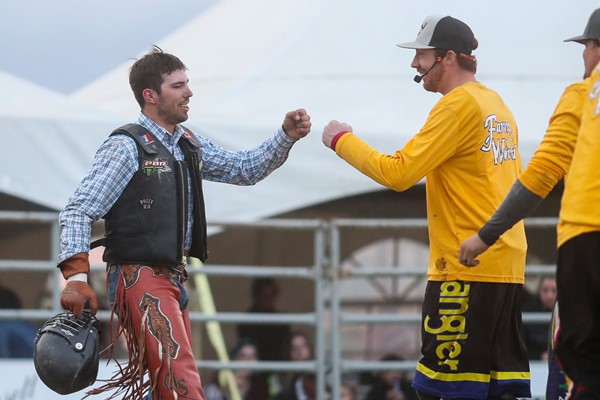 AIRDRIE, Alta. – As if ending the regular-season for the 2022 PBR Pendleton Whisky Velocity Tour as the No. 1-ranked rider wasn't enough of a successful season for Claresholm, Alberta's Griffin Smeltzer, being signed to a team for the soon-to-launch PBR Team Series and coming home to win his second PBR Canada event is not a bad start to the second half of his 2022 PBR campaign.
Despite the 22-year-old cowboy having a difficult wrap to his PBR Pendleton Whisky Velocity Tour season, getting blanked at the Finals at the start of May, he concluded the season a career-best No. 51 in the world, earning his first Glen Keeley Award.
An eternal optimist, Smeltzer epitomized what it means to be a professional athlete, quickly refocusing his sights on the next task, earning a spot on one of the new PBR teams.
And his season of work would not go to waste as 1997 PBR World Champion Michael Gaffney, Head Coach of the Austin Gamblers got in touch with the young Canadian shortly after the inaugural PBR Team Series Draft, presented by ZipRecruiter, on May 23, offering him, and traveling partner Blake Smith, a spot on his team's roster.
RELATED: Canadians Blake Smith and Griffin Smeltzer Sign with Austin Gamblers Via Free Agency
"I am super excited to be a part of that team," Smeltzer said. "I think everybody there has the ability to do just about anything they can dream of. Together, I 100 per cent believe we can win this deal. Nothing else should be the goal with this group."
Gaffney and the Gamblers selected two-time PBR World Champion Jose Vitor Leme, Austin Richardson, Lucas Divino, Claudio Montanha Jr. and Conner Halverson, during the initial PBR Team Series Draft, while also inking Smeltzer, Smith, Dakota Louis and Ezekiel Mitchell via free agency.
Smeltzer says the groundbreaking concept in professional bull riding is going to give young riders like himself an opportunity to truly develop like a pro athlete under the consistent tutelage of World Champions.
"Gaffney and Leme are arguably the best bull riders ever in their own times," Smeltzer said. "There is a lot to be learned from those guys, I am excited to work with them.
"As an athlete I live to better myself physically for sure, and I think this team will be a big part of that. Then it's just staying on all my bulls, and the rest will take care of itself."
As for what Smeltzer brings to the team, and what others might be able to take from him, Smeltzer said it's his gritty, get-it-done attitude.
"I don't care what they run in under me. I want to be the cutch guy. I am just looking forward to getting on whatever they run under me, and I believe I can stay on them."
Smeltzer spent a good portion of the first half of the year traveling with Abbey, Saskatchewan's Smith, explaining that he gets along well with him, which should set up a good team environment from the Canadians duo for the rest of the roster.
The young Canuck also added that he has had the privilege to get to know a few of the team members already, and is ready to win with this squad.
"I know Dakota pretty good. Conner Halverson, I spent a lot of time with him down there. Austin Richardson I get along with him well. Lucas Divino is a great guy."
"I get along with them all," Smeltzer continued. "They are all incredible bull riders who want to win every time. I want to win as a team with those guys."
And there is no questioning Smeltzer's drive to win.
In his first trip back to Canada to compete since the 2021 PBR Canada National Finals, he showed up in Prince Albert, Saskatchewan at the Clunie/Cooper Memorial PBR, going a perfect 2-for-2 to collect the event win.
As one event, spread across two days, Smeltzer, who double-entered, had a less than ideal opening night. After he drew back into the championship round on time, he faced early PBR Canada Bull of the Year contender Ted, but was brought down short of the whistle.
But, after a day to reconnect with his Canadian compatriots over a friendly game of touch football at the homegrown event held at the home of PBR Canada bullfighter Tanner Byrne, Smeltzer rebounded with a flawless 2-for-2 performance to beat three-time PBR Canada Champion Aaron Roy for the win.
RELATED: Griffin Smeltzer Wins Clunie/Cooper Memorial PBR in Prince Albert, Saskatchewan
"The Velocity Finals was a really tough pill to swallow, so to be able to come back and see success, especially after signing to the Austin Gamblers, really means a lot," Smeltzer concluded.
"I am glad to be back, and I am having a ton of fun."