25th PBR: Unleash The Beast Preview – Tulsa
By: Kacie Albert Friday, August 10, 2018 @ 10:39 AM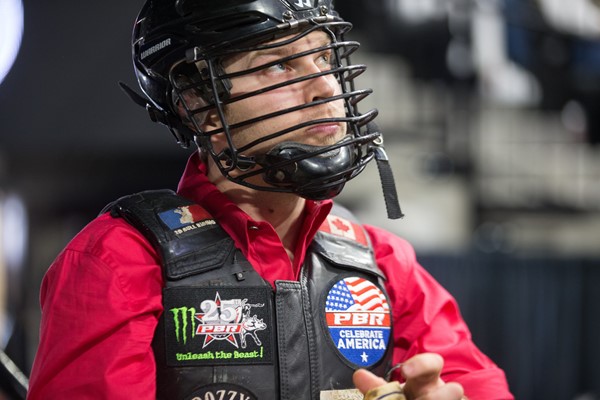 NEW YORK CITY – Marking his first full season on the elite 25th PBR: Unleash The Beast, Dakota Buttar reached many career milestones in 2017.
He won his first career elite tour event in Nampa, qualified for his first World Finals without first having to compete at the Velocity Tour Finals, and earned the Glen Keeley Award as the top finishing Canadian in the world standings, concluding the year No. 26.
With just two months between the 2017 World Finals and this season's first event in New York City, Buttar rode the success into the New Year, leading him to reach a career best world ranking, travelling to Tulsa, Oklahoma for the start of the second half ranked No. 13.  
And Buttar will make that journey having taken a different approach to the summer break than his three countrymen that will join him in the Sooner State, competing at just eight events since Last Cowboy Standing, including the PBR Global Cup in Sydney.
"Last summer I kind of, it wasn't a choice really," Buttar said of his similar summer season in 2017. "I had some bad injuries so I had to take time off. So it wasn't quite a good time off, it was more letting everything heal. And then this summer I actually had the choice really.
"I wasn't considering rodeoing this summer, I had been on enough bulls already. I thought I mind as well take some time and heal up, there's still quite a bit left here when the second half starts."
Five of the events Buttar elected to ride at were on Canadian soil, including his event win on the second night of the annual Touring Pro Division event at Ranchman's.
RELATED: Home Soil Crowd Elevates Buttar to New Career Highs
"Every time I have taken a break, when I've come back I've felt like I rode a lot better," the Saskatchewan-born rider explained.  "Not to knock the guys that get on a bunch of bulls, I'm kind of one of those guys that likes to take a break when I can, let the body heal up so everything can start working properly again."
Influencing Buttar's decision to not compete were the number of points available throughout the summer, compared to those on the table when the elite tour resumed.
"Yeah, I'm a numbers guy," Buttar who has an accounting background acknowledged. "I was kind of looking at the points and really this year I thought I would maybe benefit more just taking the time off and letting stuff relax and chill out for a while, rejuvenate myself.
"I'm excited to get back to riding now. If I would have been going all summer I probably would be burnt out by the time this started up. The amount of points there are during the summer it kind of doesn't really add up to what one of these events what you can get for points really."
With nine events remaining on the calendar prior to World Finals, Buttar, who trails No.1 Kaique Pacheco by 1777.5 points, is within conceivable striking distance of the title. Historically, any rider within 2,000 points of the world lead at the start of the World Finals has had a chance at the title.
"It's still a possibility," Buttar said. "But I've got a lot of work to do -- I'm looking forward to it.
"I'm feeling really good, feeling pretty confident in my riding so hopefully it'll be good, we'll just let 'er take its course I guess. Do my job and hopefully it will fall into place."
Looking back, after a second place effort in Columbus where he recorded his first 90-point ride, 90 points on Inferno, Buttar went 0-for-2 at the final event of the first half, Last Cowboy Standing in Las Vegas.
Last season in Tulsa, he went 1-for-2 to finish 16th after making his elite tour debut in the city in 2016.
In Round 1 of this season's Express Employment Professionals Classic, presented by Osage Casino, the fourth ABBI Classic Round of the season, he has drawn War Cloud who in 12 attempts across all levels of competition has yet to be ridden.
RELATED: Click here for the complete Saturday day sheet.  
A familiar matchup, the bull sent Buttar to the dirt at the 2.08-second mark earlier this season during Round 2 of the Kansas City event.
Also set to ride in the 15/15 Bucking Battle, Buttar will attempt Hedoo, unridden in his last seven outs. The last rider to make the 8 aboard the Gene Owen bull was Cody Teel for 87.5 points at the season-launch event in New York City.
For the first time this season, Buttar will be joined by four of his countrymen in the draw, Tanner Byrne, Brock Radford and Lonnie West, and change he welcomes after spending the majority of last season as the lone Canuck on tour.
"We'll have everyone there and helping each other on," he said. "My last year was pretty tough being the only one there for most of the year.
"For myself, anyways, having those other guys there makes things a lot more fun and it'll give you more confidence knowing my buddies are on the back and everyone has each other's backs while we're there."
Competing alongside Buttar during the vast majority of the events during the first half of the season, Byrne travels to Tulsa ranked No. 23 in the world.
RELATED: Byrne Firing on All Cylinders Ahead of Second Half
When we last saw the 2015 Canadian Champion on the elite tour, Byrne finished 12th at the Last Cowboy Standing, going 1-for-3.
As one of five elite tour events Byrne competed at last season as he battled a long list of injuries, the Saskatchewan-native finished 22nd in 2017 in Tulsa after he went 1-for-2.
This season, Byrne has drawn Fearless in Round 1. Unridden in nine outs, the D&H Cattle Co. bull earned his top marks in his debut on the elite tour, marked 45.25 points for his 3.57 second buckoff of Luciano de Castro in Kansas City.
Joining the duo of Saskatchewan riders is young gun Radford, who once again used an impressive summer campaign to climb the world standings, reaching No. 29 ahead of this weekend's event.  
Riding at six elite tour events thus far in 2018, including four consecutive events to close the tour's first half, Radford entered the summer streak with four consecutive buckoffs, capped by a 6.06-second buckoff by Big Show at Last Cowboy Standing.
Competing for the first time in Tulsa, he will face A.J. in Round 1. Ridden just once in 13 attempts across all levels of competition, the bull recorded his best score during the summer campaign, marked 45 points for his 2.85-second buckoff of Zane Cook at the Decatur Touring Pro Division stop.
With six trips on the elite tour, the Bent Rail Bucking Bulls bovine athlete has dispatched the likes of current world No. 1 Pacheco (7.97 seconds – Raleigh 2017) and No. 18 Brennon Eldred (2.58 seconds – Thackerville 2017).
Completing the contingent is tour newcomer West, who made his 25th PBR: Unleash The Beast debut in late April at the Billings stop.
RELATED: Radford and West Riding Hot into Tulsa
In his first-ever elite tour event in Billings, West drew the attention of many finishing 8th after he covered Big Slick for 85.5 points in Round 1.
He'll make his return to the sport's top level with a second place finish in Livingston, Montana at his back, coming via an impressive 89.5-point trip on Cooper Tires Semper Fi.
In Round 1 he'll attempt Real Gun who will be making his elite tour debut. According to ProBullStats, the bovine athlete has had three outs, dispatching the rider each time, and twice earning a bull score of 42.5 points.  
"I'm excited for Brock and Lonnie," Buttar said. "That'll be good having four guys on tour there. I think they're going to do good too in the second half."
The Express Employment Professional Classic, presented by Osage Casino and Hotel gets underway in Tulsa, Oklahoma at the BOK Center on Saturday, August 11 at 6:45 p.m. CT, concluding on Sunday, August 12 at 1:45 p.m. CT.
Fans will be able to watch the action in its entirety, live, via PBR's new streaming digital platform RidePass. The stream for the two-day event will begin on Saturday, August 11 at 7:30 p.m. ET, and Sunday, August 12 at 2:45 p.m. ET. On-demand replays will be available at 8:00 a.m. ET the next day at www.ridepass.com. The service can be found at www.ridepass.com, and in the Apple App and Google Play stores under the listing of RidePass.
Be sure to stay tuned to PBRCanada.com and follow the tour on Facebook (PBR Canada), Twitter (@PBRCanada), and Instagram (@PBRCanada) for the latest results.