Byrne Firing on All Cylinders Ahead of Second Half
By: Ted Stovin Thursday, August 9, 2018 @ 3:56 PM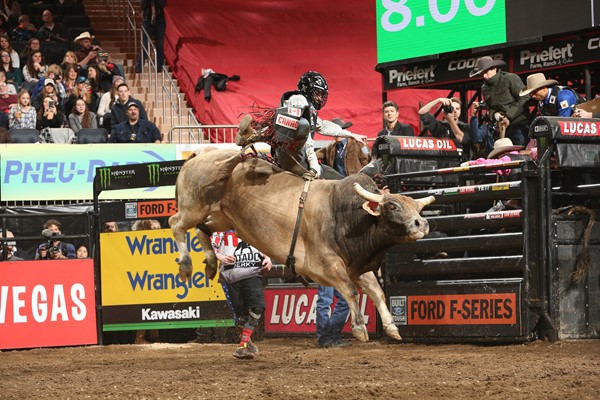 KEG RIVER, Alberta – In 2015, Tanner Byrne wrote his name in the PBR history books as the highest ranked Canadian ever in the PBR world standings at season's end.

After winning the PBR Canada title, he finished fourth at the PBR World Finals, even without attempting his final bull, and finished No. 8 in the world.  
Since he set that record nearly three years ago, no one has topped him, but that could soon change with four Canadians competing at the 25th PBR: Unleash the Beast event in Tulsa, Oklahoma this weekend.
Riddled with injuries that sidelined him for nearly the entirety of 2017 along with the lost of best friend Ty Pozzobon, Byrne is back firing on all cylinders in 2018.
Through the first half on the elite tour, Byrne went 12-for-36 (33.33%), earning his third career event title in February at the St. Louis Invitational.
Historically, Byrne leads all Canadians with the most wins ever at the PBR's elite level with three (Anaheim and Duluth - 2016 and St. Louis - 2018).
RELATED: Tanner Byrne Wins St. Louis Invitational
"I got to spend some time at home and get relaxed up before I've got to hit the trail here again," Byrne said of his summer. "I figured that I would save myself enough to get ready for the second half.
"It gets into a pretty solid grind. I've been at 'er the last two years and know that there's a lot of money to be won in the second half. I wanted to be feeling 100% and ready to go for this next grind to the World Finals. I went hard there at the start of the summer and then the last little bit, about a month or so, I just took it easy and let my body get back into good shape at home."
Since the premier series concluded its first half in early May with Last Cowboy Standing in Las Vegas, Byrne competed at nine events, including the PBR Global Cup in Sydney, Australia, where he finished second in the individual aggregate as one of two riders to go a perfect 4-for-4. 
RELATED: Byrne Rebounds in Sydney Leading Canada to Third Place Finish
With the bulk of his summer events on Canadian soil, Byrne added four Top-10 finishes to his season record, including an event win the weekend following Last Cowboy Standing in Nipawin, Saskatchewan on the Canadian Touring Pro Division.
RELATED: Saskatchewan's Tanner Byrne Wins in Nipawin
His last event came nearly a month ago, going 0-for-1 on July 11 in Kinsella, Alberta.
"I'm just getting ready to really send it here in the second half," Byrne said.
"My plan is just to win, that's all it is," Byrne explained. "That's what I want to do. In reality I just do what I can to move forward. I know that the skill level that I have, I've proved it week in and week out. I've won events at the highest level and that's what I'm going back to do.
"I feel strong, I feel healthy. Coming off the Global Cup too I had a good showing and that kind of gave me that boost again that I can't just compete, but I can win at that level. I'm ready to roll and I feel strong, I feel confident, I'm ready to do some winning and get myself back up to where I want to be and roll back into the World Finals again.
"After the last year and after the ups and downs that I've had, I'm looking forward to staying on the Unleash the Beast Tour and not just showing up there and saying that I'm a part of that tour, but I want to show up there and win every weekend."
From his Prince Albert, Saskatchewan home Byrne spent his month off hauling bulls to events with his family's Flying Four Bucking Bulls stock company and working on himself.
"[I do] anything really that I can do that I feel is going to help, whether it's riding a horse, or different things that I feel like are gonna elevate my game to make me ride better, I'll do whatever it takes," Byrne said. "They have all changed since tearing all those groin muscles. I really have no muscles in my groin so Brandon [Thome] at the Canadian Pro Rodeo Sports Medicine Team really helped me out with different workout regimens to strengthen all the other stuff in there.
"It's kind of like when you tear your knees out, you've gotta get everything else around it stronger to make up for that muscle that's gone. They've given me lots to help get my hips strong and my glutes strong to kinda make up for all those groin muscles."
The PBR's elite level hasn't often welcomed four Canadians at the top level before, and Byrne is excited to have a couple new faces on tour for the second half.
"I've been to a few, we had Aaron [Roy], Zane [Lambert], [Ty Pozzobon] and myself for a while, and that one year for a while Chad [Besplug] was there," Byrne said. "There's been a few times where we've had a few but I'm 100% hugely looking forward to having Dakota [Buttar], Brock [Radford] and Lonnie [West] on there right now and I know [Cody] Coverchuk is pretty close too."
RELATED: Radford and West Riding Hot into Tulsa
Buttar is currently ranked No. 13, while Radford is No. 29 and West at No. 33. Coverchuk is No. 44, 123.33 points behind No. 35 Alisson De Souza.
"It's cool, it just shows the skill that we have in Canada. You've heard me talk about it over the last few years with these guys that are really talented and really good guys," Byrne explained.
"We've seen Brock and Lonnie this summer just hit it hard and anywhere that there were bulls being bucked at the PBR level where they could gain points they were there getting on. It shows that they have that drive and determination that they can get where they want to be. I'm pretty proud of those two guys for doing that."
A future Team Captain of Team Canada and the current veteran on Tour, Byrne also gives a nod to the current Canadian world points leader.
"Dakota is just a huge talent, we all know and have seen in Canada over the last few years and now he's showing it at the world stage, that's he's one of the best in the world. We have great bull riders in Canada and I think it's kinda cool, the more countrymen that you have that kinda have the same mindset as you, and came from the same place, it just of makes you feel more at home when you're down there at those events."
With the two young guns fired up and also ready to send it, Byrne couldn't be more excited to be back.
"I'm looking forward to the positivity and the way that Brock and Lonnie go about their bull riding always makes it fun. It's always a good time behind the bucking chutes and makes you want to ride good and get that same success that they have. It's going to be super fun and I'm looking forward to the second half big time."  
The Express Employment Professional Classic, presented by Osage Casino and Hotel gets underway in Tulsa, Oklahoma at the BOK Center on Saturday, August 11 at 6:45 p.m. CT, concluding on Sunday, August 12 at 1:45 p.m. CT.  
Fans will be able to watch the action in its entirety, live, via PBR's new streaming digital platform RidePass. The stream for the two-day event will begin on Saturday, August 11 at 7:30 p.m. ET, and Sunday, August 12 at 2:45 p.m. ET. On-demand replays will be available at 8:00 a.m. ET the next day at www.ridepass.com. The service can be found at www.ridepass.com, and in the Apple App and Google Play stores under the listing of RidePass.
Be sure to stay tuned to PBRCanada.com and follow the tour on Facebook (PBR Canada), Twitter (@PBRCanada), and Instagram (@PBRCanada) for the latest results.