No.3 – PBR Canada goes Live on TV for First Time with Inaugural Global Cup
By: Ted Stovin Wednesday, March 14, 2018 @ 8:47 AM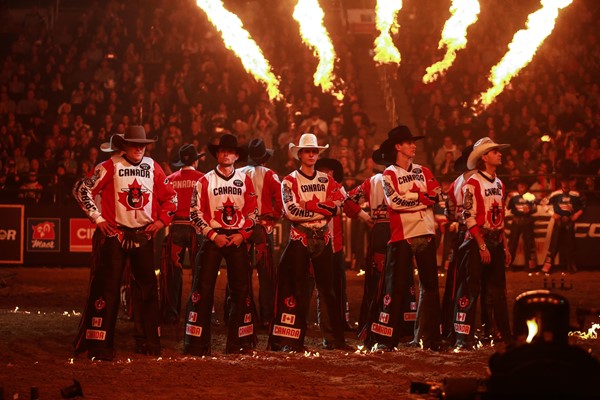 EDMONTON – Just nine days remain before the beginning of the 2018 PBR Canada Monster Energy Tour. Before we begin year three in Calgary on March 24th, we look back to the highlights from the 2017 season.
Coming in at the No.3 spot is the PBR's first-ever live TV broadcast in Canada.
In 2016 the Monster Energy Tour became Canada's first nationally-televised bull riding tour, upping the ante in 2017 televising the inaugural PBR Global Cup in Edmonton, Alberta at Rogers Place on November 10-11 live.
Since the first season of the Monster Energy Tour, TSN has been PBR Canada's broadcast partner, with the only other televised western sport event in Canada being the Calgary Stampede, held annually in July.
Sharing the No. 3 spot on the countdown with the live telecast is the Global Cup event itself. Never before had a bull riding event of this caliber taken place on Canadian soil, paying out $1,000,000 during the three days of competition between the five nations.
With a home field advantage, Team Canada led after night one inside the incredible Rogers Place, home of the Edmonton Oilers.
RELATED: Team Canada Defends Soil, Leads PBR Global Cup After First Night
However, Team USA prevailed over the two-day event to take home the top prize of more than $400,000.
RELATED: Team USA Wins Inaugural PBR Global Cup
Stay tuned in the coming months for more on the 2018 TSN broadcast schedule and next week for the ninth entry in the countdown, No.2.
Biggest Moments of the 2017 Monster Energy Tour Countdown
PBR Canada's First Ever Live TV Broadcast at Inaugural Global Cup
PBR Canada's Monster Energy Tour begins its third season on March 24th, 2018 starting at 7:00pm at the Agrium Western Events Centre on Stampede Park in Calgary, Alberta. Tickets are on sale now at Ticketmaster.com
Be sure to stay tuned to PBRCanada.com and follow the tour on Facebook (PBR Canada), Twitter (@PBRCanada), and Instagram (@PBRCanada) for the latest results.