Built Ford Tough Top 50: Marcos Gloria Becomes First Rider to Win Consecutive Monster Energy Tour Events
By: Kacie Albert Wednesday, May 27, 2020 @ 11:32 AM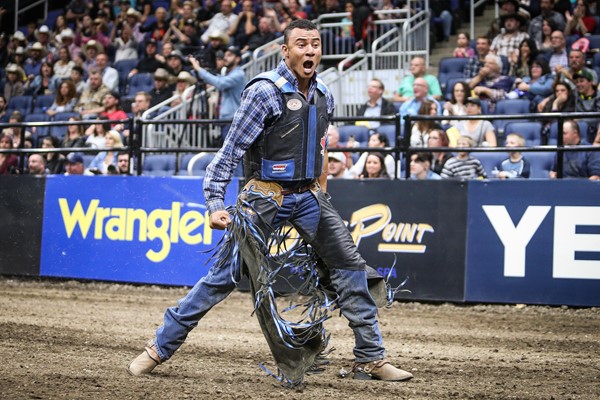 NEW YORK CITY – In 2018, a milestone was reached on the PBR Canada Monster Energy Tour.
While Zane Lambert had become the first rider to win multiple events on the series, victorious at the Canadian Finals in both 2016 and 2017, no rider had ever won back-to-back events.
And while he may hail from Brazil, Edmonton resident Marcos Gloria became the first rider to accomplish the consecutive feat when he collected event wins in Quebec and Halifax, Nova Scotia that Spring.
Gloria took his first steps towards etching his name in the record books inside the Videotron Centre for the second International Major in league history – the Canadian Iron Cowboy, presented by Couche-Tarde.
RELATED: Marcos Gloria Wins Canadian Iron Cowboy
Then featuring a unique format, Gloria began the event as the lone rider to advance to the knockout bracket on buckoff time, narrowly missing the 8-second mark when the Wild Hoggs' Tykro Total sent him to the dirt in 7.99 seconds.
In the event's quarterfinals, Gloria, who earned a re-ride, covered Tykro Checkered Flag for 82.5 points to eliminate now two-time PBR World Champion Jess Lockwood.
Returning for the semifinals, the Brazilian rider topped Justin Lloyd when he made the 8 on 2015 PBR Canada Bull of the Year Minion Stuart for 84 points.
Completing his Cinderella story march to victory, Gloria captured the event title after staying aboard his Championship Round draw longer than Brock Radford. Gloria faced off against the Two Bit Nation's Happy Camper, but was overpowered at the 6.26-second mark.
For his efforts, Gloria netted a crucial 300 world points, catapulting him more than 60 spots in the world standings, rising from No. 98 to No. 31. Matching his rise up the world standings, Gloria also climbed the Canadian standings, surging to No. 2 and inching within 790 national points of then No. 1 Radford.
Seven days later, and more than 1,000 kilometers away, Gloria rode to his second Monster Energy Tour event win at the tour's debut in Halifax.
RELATED: Marcos Gloria Rides to Second Consecutive PBR Event Win in Halifax
Gloria's finish was highlighted by his win in Round 2 which came via an 86.5-point trip on Ulterra's Night Vision.
As a result, the surging Brazilian, collected an additional Canadian and 120 world points. The finish allowed Gloria to overtake Brock Radford for the No. 1 position in the national standings, overtaking the Albertan rider by 132.5 points.
RELATED: Gloria Pursues Dream on Canadian Soil
"I'm very happy," Gloria said following his second win. "Every single bull rider, their dream is to one day ride at the finals in Vegas and I'm not different. That's what I want. I'm taking the opportunity that I have and I'm giving the 100% that I have to accomplish my dream."
Following his recording-setting efforts on the Monster Energy Tour, Gloria's historic season continued.
Less than two months later, at the "Greatest Outdoor Show on Earth," he became the first Brazilian since Adriano Moraes in 1994 to win the Calgary Stampede.
"What a day, that man right there tried his guts out, tried his guts out," boomed announcer Bob Tallman's voice as Gloria walked across the dirt.
RELATED: Gloria Makes History with Win at the Calgary Stampede
As the season progressed, Gloria continued to compete in Canada but also travelled stateside to make his elite Unleash The Beast debut.
While he fell just short of qualifying for the PBR World Finals, he did finish a career-best No. 38 in the world and No. 8 in Canada.
Fans can relive Gloria's record-setting season today on RidePass. Catch all the Canadian Monster Energy Tour action at RidePass.com or via the mobile app.