No. 2 – Québec City Welcomes PBR's First International Major
By: Ted Stovin Monday, March 19, 2018 @ 2:31 PM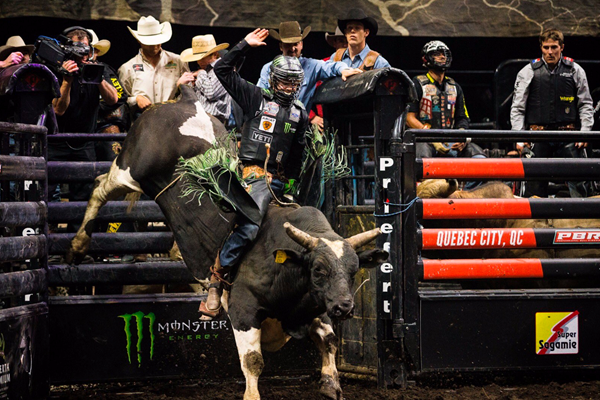 QUEBÉC CITY, Québec – Just four days remain before the beginning of the 2018 PBR Canada Monster Energy Tour. Before we begin year three in Calgary on March 24th, we look back to the Top 10 moments from the 2017 season.
Coming in at the No.2 spot is the PBR's first-ever International Major in Québec City, Québec, launching the 2017 season for the Canadian Monster Energy Tour.
With $100,000 in prize money on the line, this event not only marked the first Major for the PBR outside of the United States, but also the richest PBR bull riding event ever on Canadian soil at the time, bested  only by November's inaugural Global Cup.
Not only would this event boast a large purse but both days, but it was also broadcast across the nation on TSN and hosted by Mark Lee, one of the most recognizable voices in Canadian sports broadcasting with 14 Olympic Games to his credit alongside color commentator - Canadian bullfighting legend, Scott Byrne.
In competition, Walla Walla, Washington's Derek Kolbaba went a perfect 3-for-3 to win inside the Vidéotron Centre.
On the first night of action, the now 21-year-old won Round 1 with an 89.5-point trip aboard Mike Miller/Torres Brothers' Funky Junk.
RELATED: Kolbaba Takes Round 1 in Quebec City
On day two, Kolbaba's streak of luck continued, winning Round 2 after riding K-C/Josie McElroy Bucking Bulls/Spark-lin Acres' Time Bomb for 87.5 points. He sealed the victory with an 88.5-point ride aboard Mike Miller Bucking Bulls' Pneu-Dart's Doomsday in the championship round to claim the buckle, $34,100 CAD and 300 points towards the world standings.
The event title was Kolbaba's fourth of the season at the time, and he would go on to win eight on the season across all levels of PBR competition. Kolbaba concluded his 2017 campaign ranked No. 2 in the world standings, 447.5 points behind World Champion Jess Lockwood, a fellow competitor at the inaugural event in Québec City.
RELATED: Kolbaba Wins PBR's First International Major in Québec City
Error loading Partial View script (file: ~/Views/MacroPartials/RichtextEmbedVideo.cshtml)
From Okotoks, Alberta, Jordan Hansen, was the event's highest finishing Canadian entrant in fourth. Other standout Canadians at the event included: Jared Parsonage (Maple Creek, Saskatchewan - 10th), Zane Lambert (Ponoka, Alberta - 11th), and Justin Lloyd (Tisdale, Saskatchewan - 14th).
In 2018, the PBR returns to Québec City for the second installment of the International Major.   
RELATED: PBR Returns to Québec City for Second International Major Event
Stay tuned later this week for the tenth and final entry in the countdown, No.1.
Biggest Moments of the 2017 Monster Energy Tour Countdown
Québec City Welcomes PBR's First International Major
PBR Canada's Monster Energy Tour begins its third season on March 24th, 2018 starting at 7:00pm at the Agrium Western Events Centre on Stampede Park in Calgary, Alberta. Tickets are on sale now at Ticketmaster.com
Québec City marks stop No.3 on the Monster Energy Tour on May 18th and 19th at the Vidéotron Centre. One-day tickets range in price from $34 to $172.75, all taxes and fees included, while a two-day pass ranges from $53.40 to $152. Tickets can be purchased online through PBRCanada.com, Gestev.com or Ticketmaster.ca, or via phone at 1 (855) 790-1245.
Be sure to stay tuned to PBRCanada.com and follow the tour on Facebook (PBR Canada), Twitter (@PBRCanada), and Instagram (@PBRCanada) for the latest results.